As the place where we spend most of our day, the workplace should support health and wellness. Our experience designing work environments for law firms and clients across diverse industries has shown us that more organizations are recognizing the value of wellness at work. There are many strategies for creating a workplace that supports health and well-being, from the Fitwel Certification System, which we used for designing our own office, to incorporating biophilia, outdoor spaces, and more. We take a holistic approach to wellness, believing that the best way to create a healthy work environment is to design the physical space with this goal in mind. We'd like to tell you more about one strategy we use when we design for wellness: social connection.
Social connection is often overlooked as a wellness strategy, but connection to others is a basic human need that confers many positive benefits for the workplace. In our more than 15 years of experience as a leading design firm in Washington, DC, we've heard from our clients and their clients that the features listed below have contributed toward increased flourishing and productivity. Here are a few of the features we consider when designing environments for social connection and well-being.
Integrating Libraries into Shared Spaces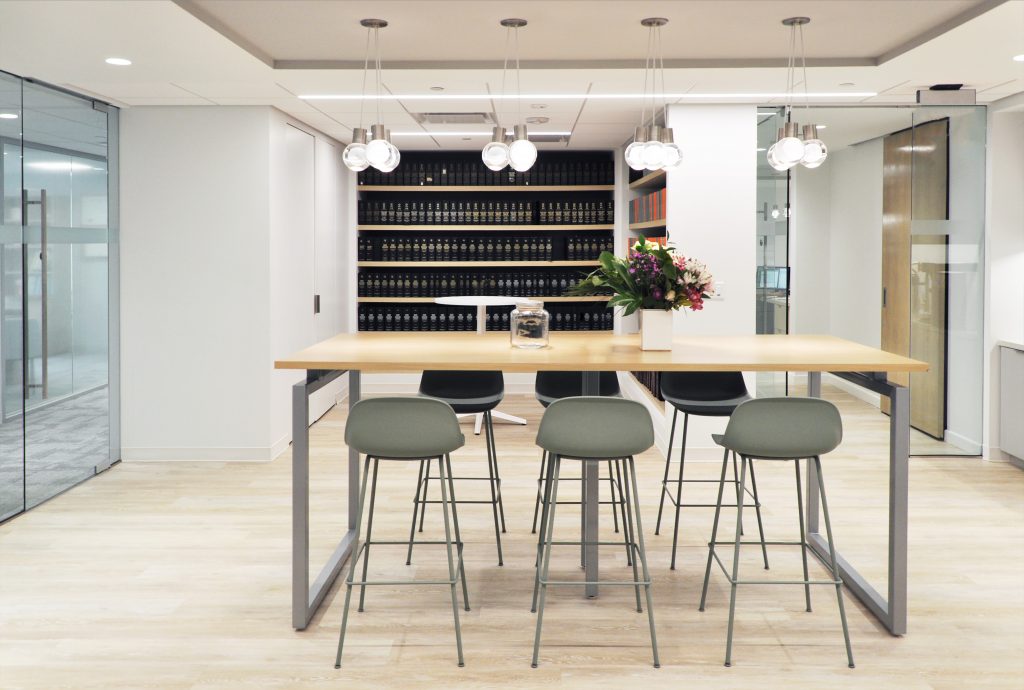 Duncan, Weinberg, Genzer & Pembroke
In the law firms of the past, using reference materials required staying in a dark, musty room until you had the information you needed. Not anymore. Law libraries are no longer relegated to the far-off reaches of the office. As research materials become digitized, libraries don't require as much square-footage. We're breathing fresh air into law libraries by integrating them into shared spaces within the office, adjacent to cafes and lounge areas.
Integrating law libraries into shared spaces means that information is right where you need it, along with colleagues who can weigh in on your challenges. It also creates a better floorplan, enabling space to be used in a way that makes the most of your square-footage and the way your firm works.
Cafes and Community Areas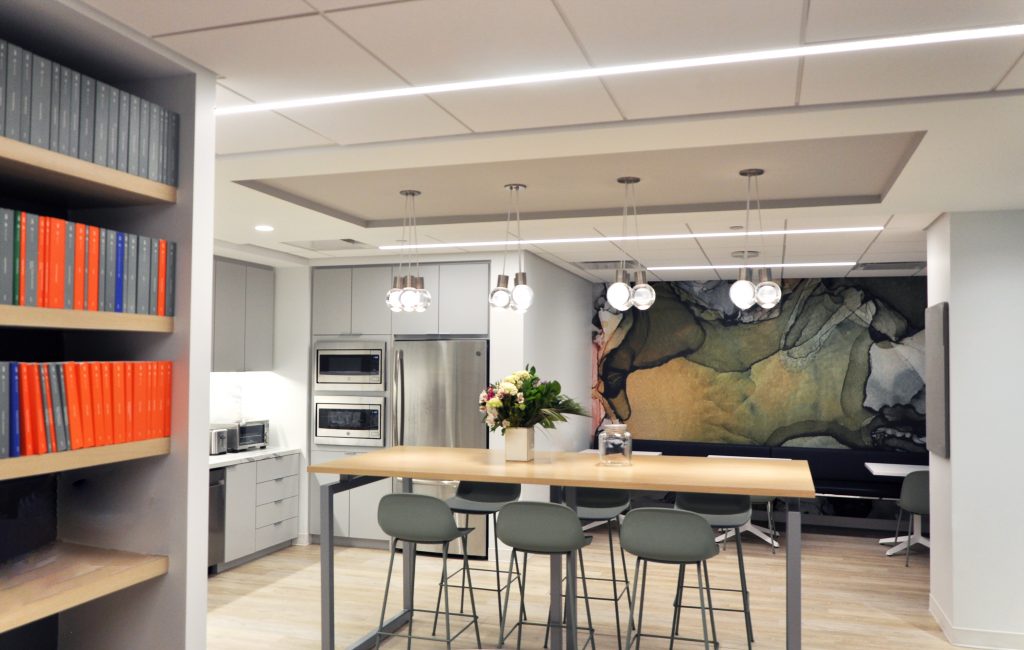 Duncan, Weinberg, Genzer & Pembroke
Cafes and community areas aren't just where you go for lunch — they're multi-functional spaces for socializing and working flexibly when you need a change of scenery. Wellness-oriented workplaces benefit from having options for working away from your desk, which can refresh your perspective and help improve productivity. We implement a variety of seating options and surfaces, from soft benching and chairs at small café tables for one-on-one chats, to counter-height communal tables for meeting with teams. Cafes and community areas serve double-duty as places where team-building and camaraderie are forged during meals or coffee breaks — positive relationships that can improve mood, strengthen bonds, and fulfill the human need for connection to others.
Natural Light and Transparency
When it comes to wellness and social connection, our clients find that spaces filled with natural light help create a positive atmosphere. We employ many strategies for increasing natural light throughout the space, including using glass fronts for offices and conference rooms. Glass fronts enable natural light to travel to more of the interior, giving staff equal access to this coveted resource in indoor environments. Using glass fronts also has an added bonus of creating a sense of transparency in the workplace. Carefully-placed, semi-transparent decals can provide privacy and conceal sensitive information, while maintaining sight lines to colleagues across the space. Need to catch someone between meetings? Glass fronts help connect you to individuals before they have time to check their email. Natural light is a feature we design into every area of the office, locating cafes along the window line to maximize the benefits of light and views to the outdoors.
Connecting People and Spaces Through a Centralized Stair
For clients who wish to foster social connection across multiple floors, we've found that a centralized stair accomplishes several important goals for company culture and individual well-being. Not only does the stair link activity zones and enable individuals to move freely, it also allows individuals to overlap with people across the firm, connecting with others as they make their way to the coffee machine. Because we locate areas of interest and activity near the stair, the stair becomes a natural connecting point between people and spaces. The stair makes it easier to get your steps in when you get up from your work, encouraging physical activity and a break from sedentary routines. When we designed our own Fitwel-3-Star-rated office, we used the same strategy for health, well-being, and social connection.
We're passionate about helping law firms stay up-to-date with trends and compete for top talent with wellness in the workplace. We've partnered with the following firms to design and build their vision.
Wilkinson Walsh + Eskovitz
Weiner Brodsky Kider
Smith Pachter McWhorter
Cassidy Levy Kent
Bonner Kiernan Trebach & Crociata
Duncan, Weinberg, Genzer & Pembroke
Wenderoth, Lind & Ponack
Rothwell Figg
Shook, Hardy & Bacon
Reno & Cavanaugh
Vedder Price
and more.
Interested in learning more? Let us know how we can help.