One of our favorite design mantras at FOX Architects is 'outside in, inside out.' Whether designing for interior spaces or base structures, we carefully consider the site context and create solutions that unify the site with its greater surroundings.
So what did we design in an office building lobby adjacent to an outdoor park? We brought the outside in with a 780-square-foot indoor living wall. Sixty-six feet wide, with a variable height of five to 19 feet, our green wall at 1000 Wilson Blvd in Arlington, Virginia, is the second-largest living wall in the United States.

Green Wall as Design Solution
Monday Properties brought in FOX Architects to tackle the lobby of 1000 Wilson Blvd and the mall level that connects the building to the adjoining 1100 Wilson Blvd. There were many problems that needed to be addressed with a cohesive design solution. The lobby was large and uninviting, with empty fountains and aging planter boxes. From the outside, it wasn't clear that this was the main entry to the 1000 building, so the redesign needed to clearly mark the space's prominence from the outside looking in.
Another challenge was tying together these interior spaces with the adjacent Freedom Park, an outdoor area that is both tenant amenity and open to the public. Monday Properties needed to attract and retain tenants with a clear connection to usable outdoor space. They also wanted to contribute to the vibrant Rosslyn community with an attractive street-level presence that shows off their brand. Our team from FOX Architects came up with a comprehensive solution that unifies the lobby space with the park and the Rosslyn neighborhood community — and the green wall was a significant part of the solution.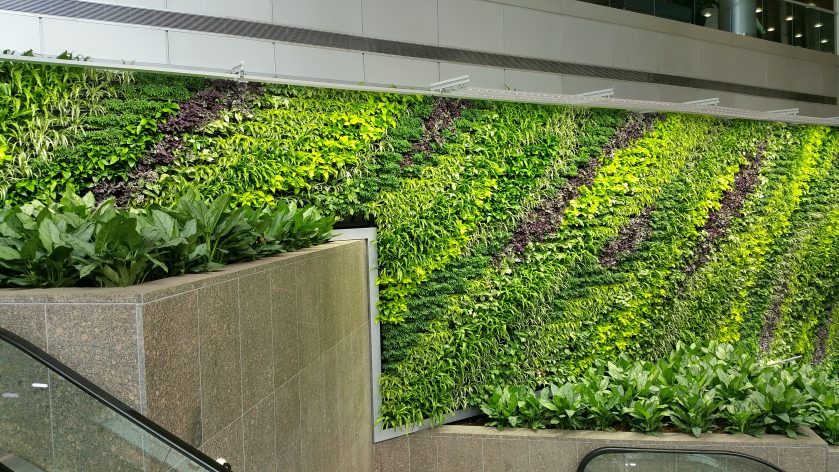 Planning and Implementation
FOX Architects conceptualized the design, planning for the location, shape, lighting, and how the green wall would fit within the space. Our team chose an organic aesthetic with gentle curves as one plant type flows into the next — a design that complements the organic curves of the mall and building shell. We also created a trim system that hides the system infrastructure necessary for the plants' health.
We brought in Greenstreet GreenWalls to choose and source the plants, and they worked with AgroSci to implement AgroSci's specialty Aerogation™ green wall system. This technology is crucial for the success of the green wall, and for the impact of the design solution. No one wants a wall of dying plants!
How does the green wall work?
Comprised of 5,326 plants in 2,663 pots, the green wall is a specialty system that enables the plants to thrive. A hollow PVC structure features horizontal channels that hold rows of planting containers. From behind the containers, air and water are pumped to each plant's roots, feeding indoor air through the plants, which clean the air in return.
Providing indoor plants with enough light can be a challenge, and this wall was no exception. Our team used small, powerful, LEDs designed just for green walls. The bulbs shine full-spectrum light that mimics sunlight, enabling the plants to grow as if they were outdoors. And with 600 foot-candles of illuminance, the brightness is comparable to outdoor daylight as well.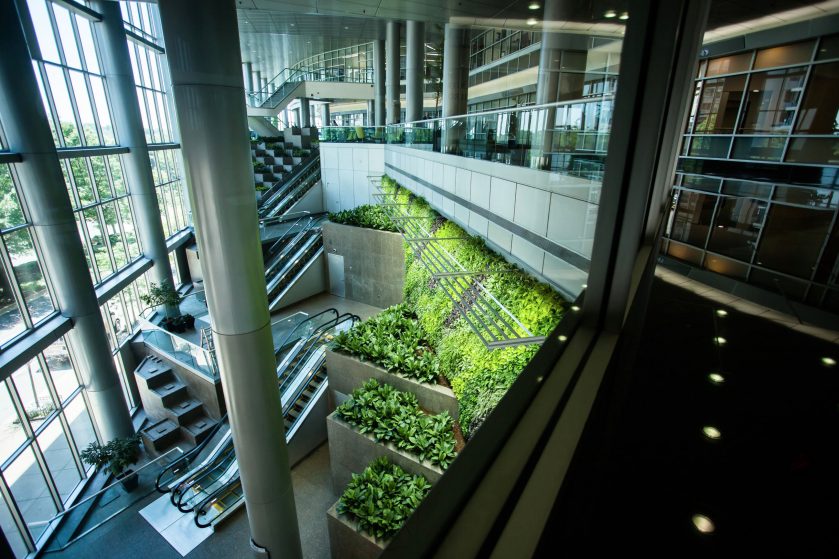 Green Wall Benefits
Green walls provide many unique benefits that promote occupant well-being and support sustainable initiatives. Plants improve indoor air quality, increasing oxygen and humidity in the space. And with 5,326 plants on our green wall, the impact on air quality is impressive. This system increases the natural output of the plants, cleaning and replenishing about 1.27 million cubic feet of air per day within the lobby. Such benefits support the spirit of sustainable design and may contribute to LEED and WELL certifications.
Since demand for biophilia and biophilic design is increasing, green walls are a great solution for making workplaces more relaxing, drawing upon natural elements to reduce stress. These enjoyable spaces also help increase property values, offering tenants a unique experience within their workplace. Through this project, FOX Architects helped position Monday Properties as a leader in the workplace market — a brand capable of delivering large-scale, forward-thinking amenities.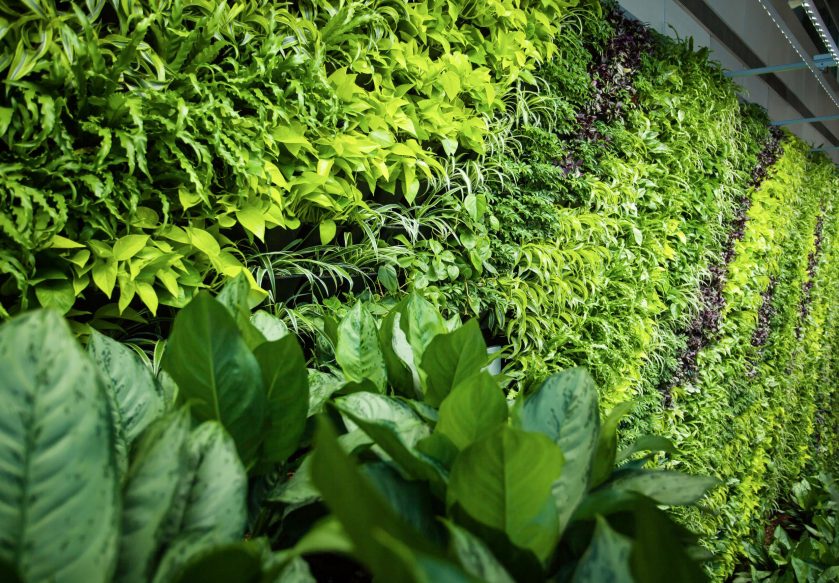 What's that plant?
We know you'd like a few of these in your home or office. For our plant-loving friends, here's a list of the plants included in our green wall:
Asplenium antiquum 'Victoria'
Chlorophytum comosum
Dracaena fragrans 'Lemon Surprise'
Epipremnum aureum 'Jade'
Epipremnum aureum 'Marble Queen'
Epipremnum aureum 'Neon'
Philodendron cordatum
Schefflera arboricola
Tradescantia pallid
considering a green wall?