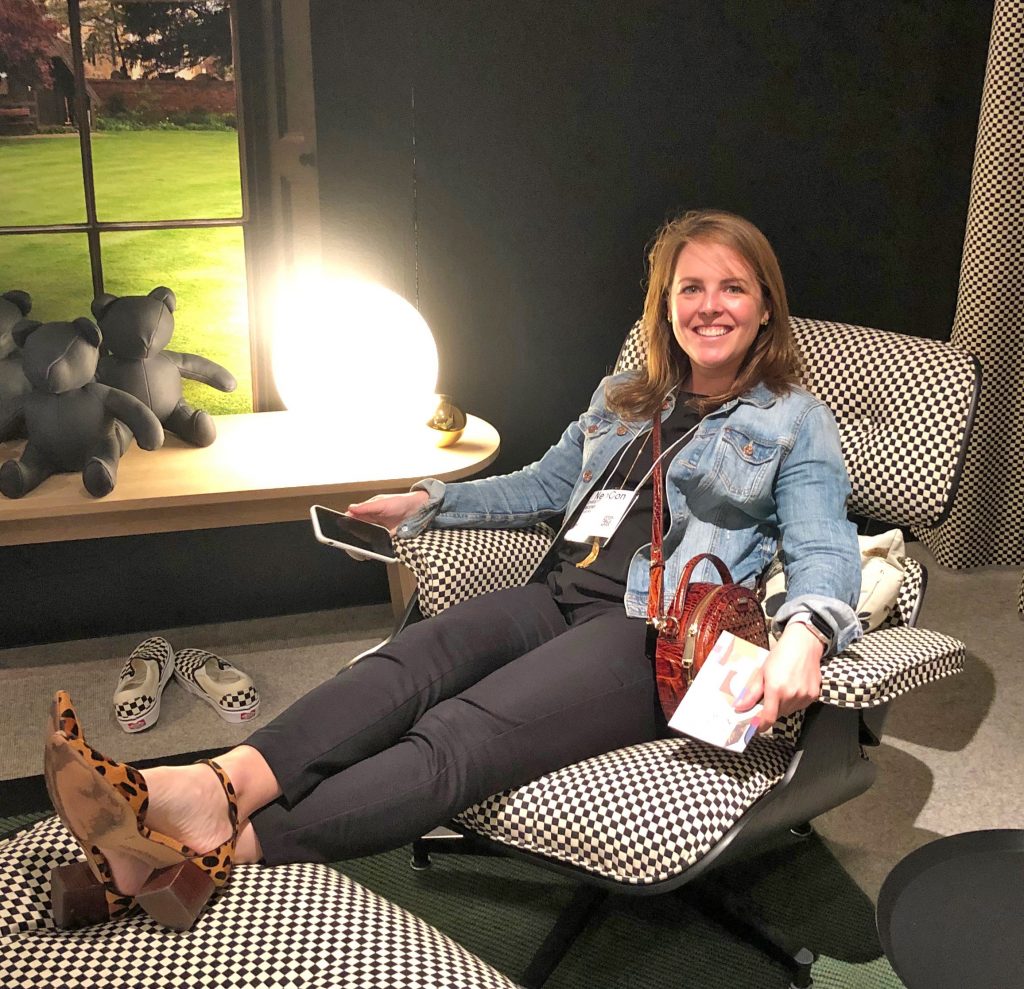 At FOX Architects, we've had a busy summer showing off our new construction, winning awards, leading and developing the next generation of design professionals, and celebrating our team. It's been an energizing season of creativity, with a moment or two to relax and refresh on a rooftop.
We're still inspired by what we saw at NeoCon 2019: the annual industry event that sets the agenda for what's coming up in the world of commercial design. FOX Architects Senior Designer Christina McEnroe traveled to Chicago to bring back the latest intel on the state of the industry. After scouring the more than one million square feet of showrooms, here the most significant trends Christina saw at NeoCon 2019.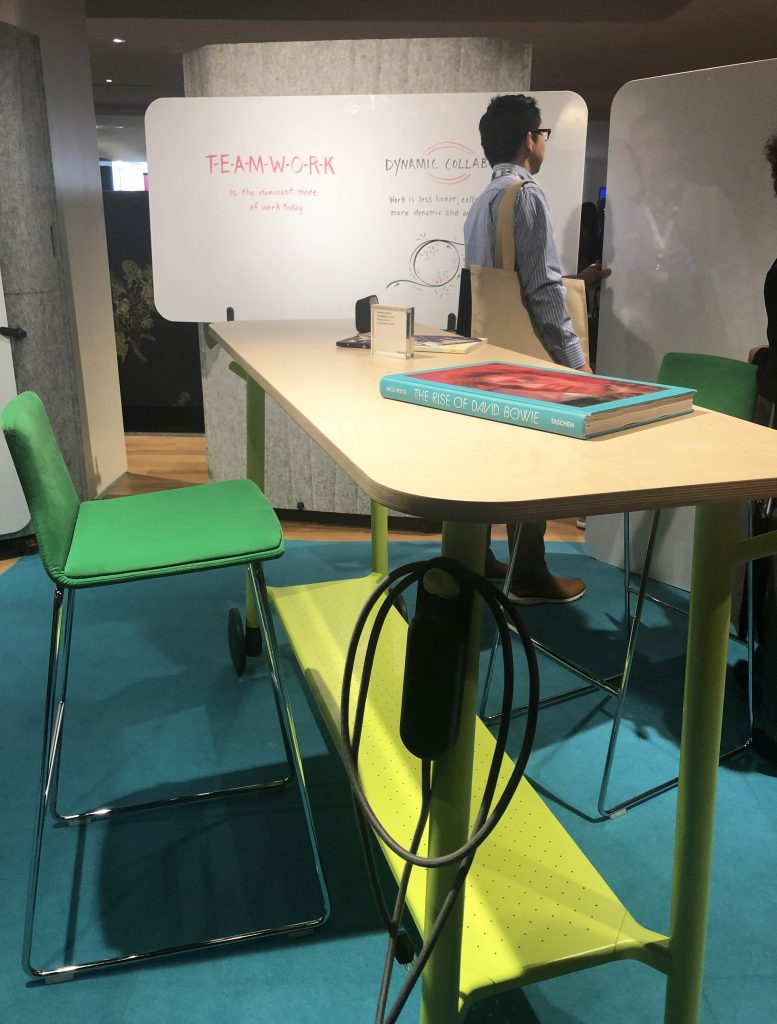 Designing for Agile Workflow
Agile methodology is spreading beyond software development, and the industry is responding with unique design solutions. This project management approach is flexible and collaborative, just like the workspaces we've been designing for a multitude of clients. But designing for agile requires a new consideration of how teams work and what they need throughout the day. NeoCon 2019 was full of agile-oriented furniture and workspace solutions that can easily be moved around and reconfigured for different needs: tables, chairs, whiteboards, partitions, storage solutions, and more.
Designing for agile enables teams to transition to different workflows throughout the day by moving their workspace — not packing it up and taking their work to another space. Christina explained the difference in this approach: "In the past, spaces have been very linear, where an individual has their desk, there are huddle rooms that they can retreat to, but there's no fluidity in the plan — there's no team-based organization that can go from a group setting to individual settings throughout the day. It's really about creating a space for a team than for an individual, but also having the opportunity for teams to break away into individual settings if they need to." The industry is realizing that designing for agile means a new level of flexibility and more options for supporting the way teams and individuals work.
Portable Power Sources
A significant factor for agile workspaces is where users can plug in their computers and devices. After all, you can rearrange furniture, but the real limitation is where the power is. Traditionally, power outlets have been stationary, but portable power sources mean that plugging in doesn't have to restrict your location. NeoCon offered many forms of portable power. Battery-powered furniture equipped with removable battery packs let you recharge the battery pack overnight and return it to the table for daily use. Other, smaller devices recharge on special carts and sit on any surface for plugging in when you need it, wherever you need it. "We've always been hindered by where we can plug in," Christina said. "I think the technology behind this will continue to get better and we will be able to better implement the flexibility we design for."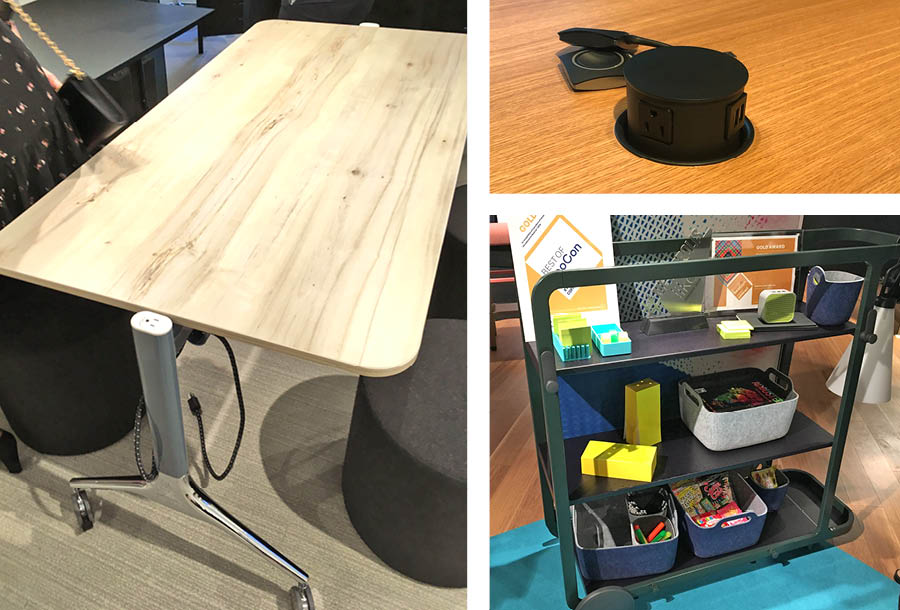 Reducing Our Carbon Footprint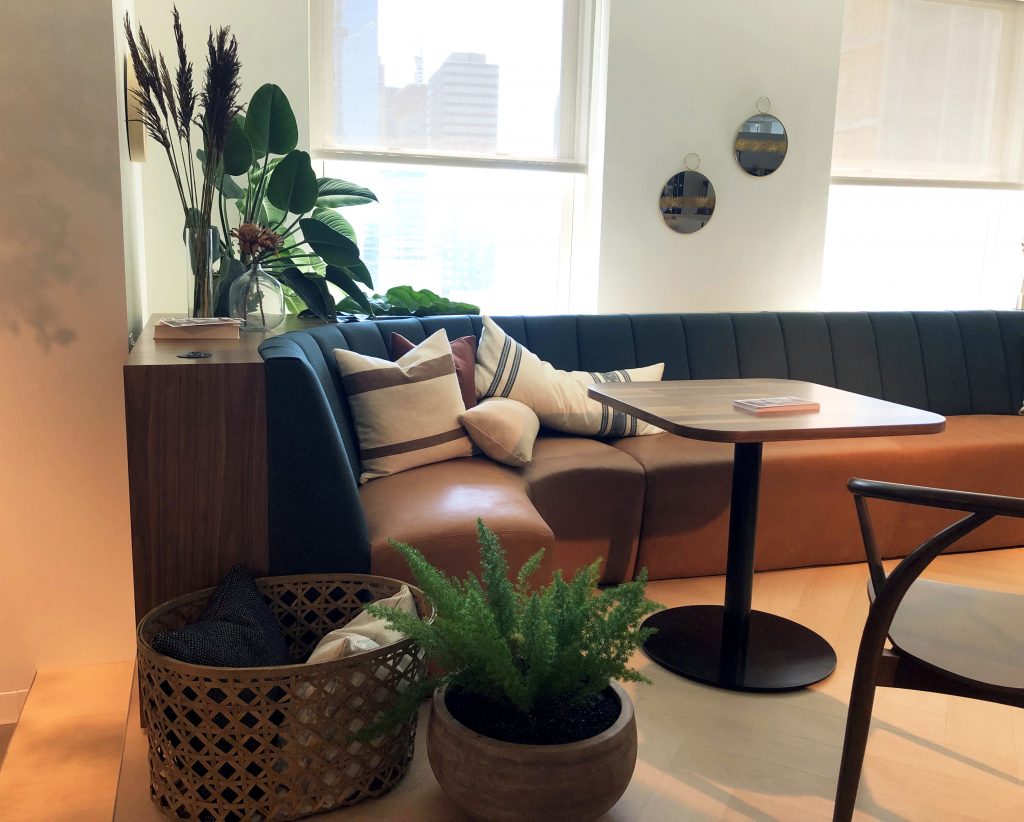 Manufacturers within the industry are now seriously considering how their products might impact the environment and contribute to climate change. For example, flooring manufacturer Interface is leading the charge by designing all their products to be carbon neutral throughout the full lifecycle of every product. This transformation extends well beyond the products themselves—the company also contributes to renewable energy projects and to protecting natural habitats around the globe.
Brand Integration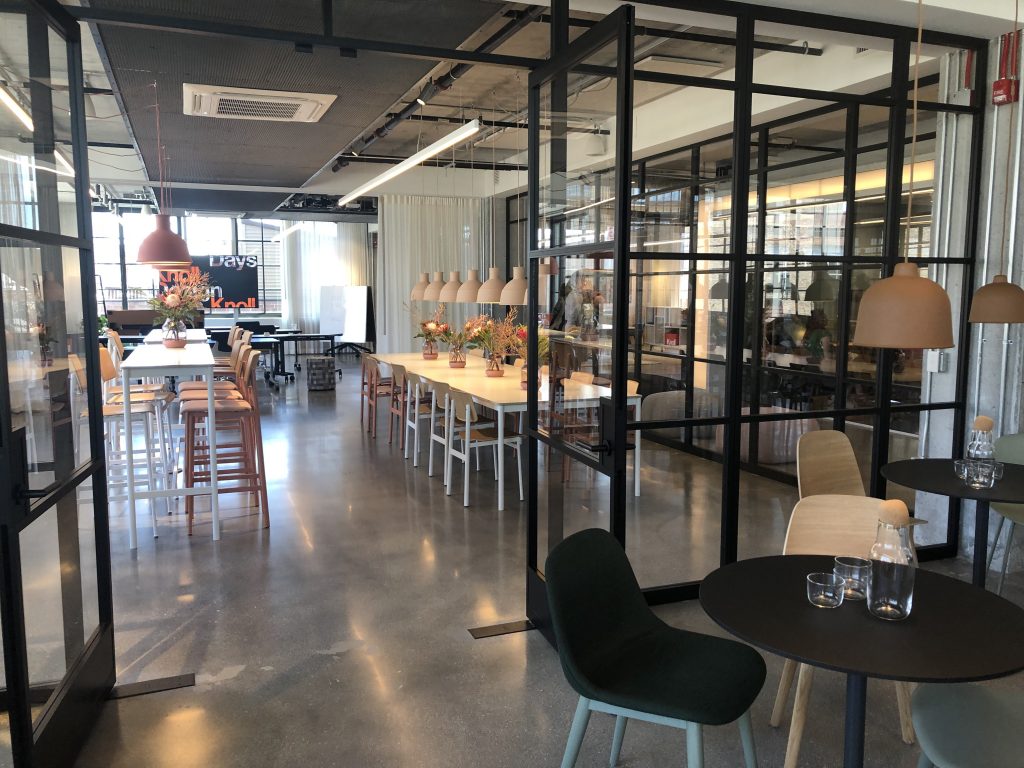 We know that teamwork makes the dream work, and that was on full display at NeoCon 2019 — so much so, that industry powerhouse Knoll left NeoCon's venue at The Mart and set up shop at Fulton Market. Not only was this move the talk of the event, but it gave Knoll significant space to display their full range of brand partnerships.
"It's a big thing we're seeing now," Christina said. "Many of the larger manufacturers have partnerships with smaller brands to offer a greater breadth of products and show how all their different lines can work together within an integrated palette." This is convenient for end-users, as designers can go to one source for furniture, lighting, and more, and their clients can easily envision how their space might come together. Another bonus is that getting to a certain price point can be easier across integrated brands, with a multitude of options offered in the same palette.
The Virtual Doctor's Office — at Your Office
Imagine this: you're not feeling your best, but you don't have the time or energy to wait at a clinic. What if you could check in with a doctor without leaving the office and waiting your turn? That might become the new norm with telemedicine amenities. At NeoCon, Christina saw examples of specially designed rooms for video chatting with a medical professional, which could be located within an office or provided as a building amenity. "We're seeing the workspace turn into so much more than where people work — it's where people access amenities that support their health and wellness," she said. "Consulting a physician at work is another component of this move to offer convenience and support employees' needs."
In fact, our client Convene is implementing virtual healthcare technology in some of its coworking locations. Could your workplace be next?