Commercial real estate in DC is competitive enough. So what happens when your competitor is family? How do you cut deals against your own dad? For expert insight into the state of the industry, we hosted a conversation with Raymond "Ray" Ritchey, Senior Executive Vice President of Boston Properties and David Ritchey, Executive Vice President of JBG Smith — a father-son rivalry and industry leaders in the DC region. Moderated by Doug Fruehling, Editor-in-Chief of Washington Business Journal, more than 90 real estate industry professionals and local business leaders joined FOX Architects in our new West End office.
A long-established figure in DC commercial real estate, Ray entered the industry in the '70s, beginning a new career and establishing his young family. Little did he know that this move would influence his son's career. Thanks to a real estate boom from 1976-1980, Ray found success in a flourishing market. Despite Ray's centrality in the local industry, David didn't share his father's interest in commercial real estate. That all changed after David graduated college and realized that maybe Dad was right.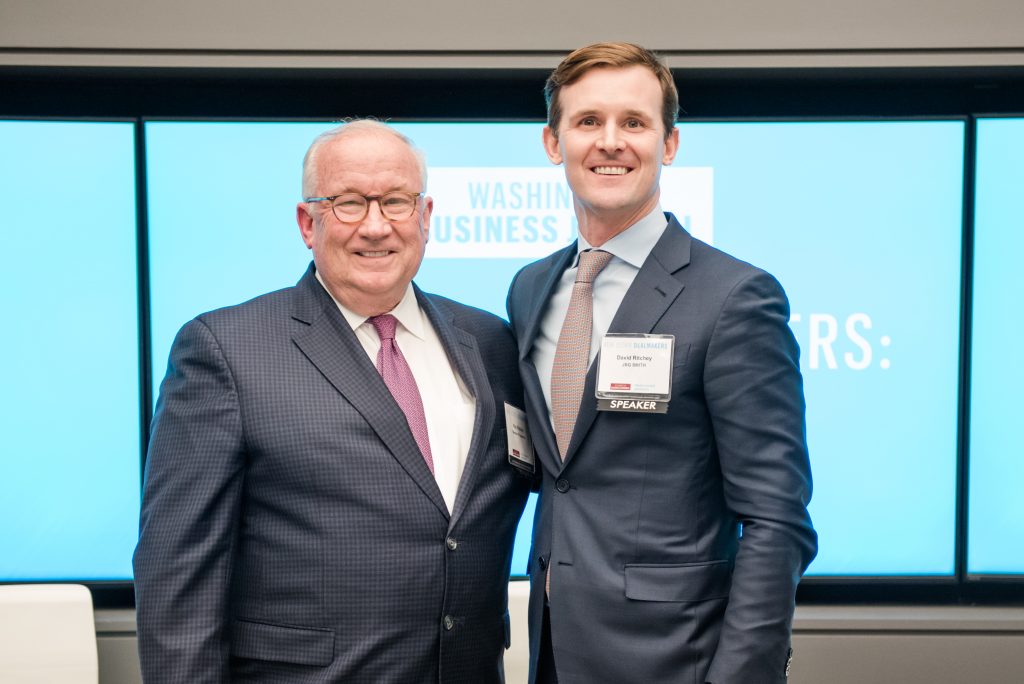 Speaking to David now, you'd never know he had doubts about commercial real estate. What does he love most about the industry? "The energy, the passion, the pursuit that's involved in any transaction, the people, the relationships . . . It's a little bit captivating." For both Ray and David, the principles that enable success in the industry are the very same principles that made them fall in love with commercial real estate: respect, honesty, cultivating long-term relationships with people, and doing what you say you're going to do. Ray's advice for newcomers to the industry is simple, but important: "Focus on the long game and especially your relationships with people you want to work with. . . Treat everybody with the same level of respect and importance as the decision-maker."
Like any industry, commercial real estate has its challenges, David admitted. And DC's had particular storms that the Ritcheys have weathered. After a promising market from 1989-2000, a downturn from 2001-2003 brought slow development to the greater Washington area due to the tech boom and the cultural impact of the September 11, 2001 attacks. Ray added that a significant disadvantage for the DC market is that without a robust tech/startup ecosystem or a tech-focused university, the market isn't as diversified as it could be. David was quick to affirm that despite these challenges, real estate is growing at a steady rate in the DMV and the future looks promising. He's excited about one project in particular: 1900 N Street NW, developed by JBG Smith. Ray is looking ahead to a major project for Boston Properties, 1333 New Hampshire Ave NW. Both of these projects were designed by FOX Architects.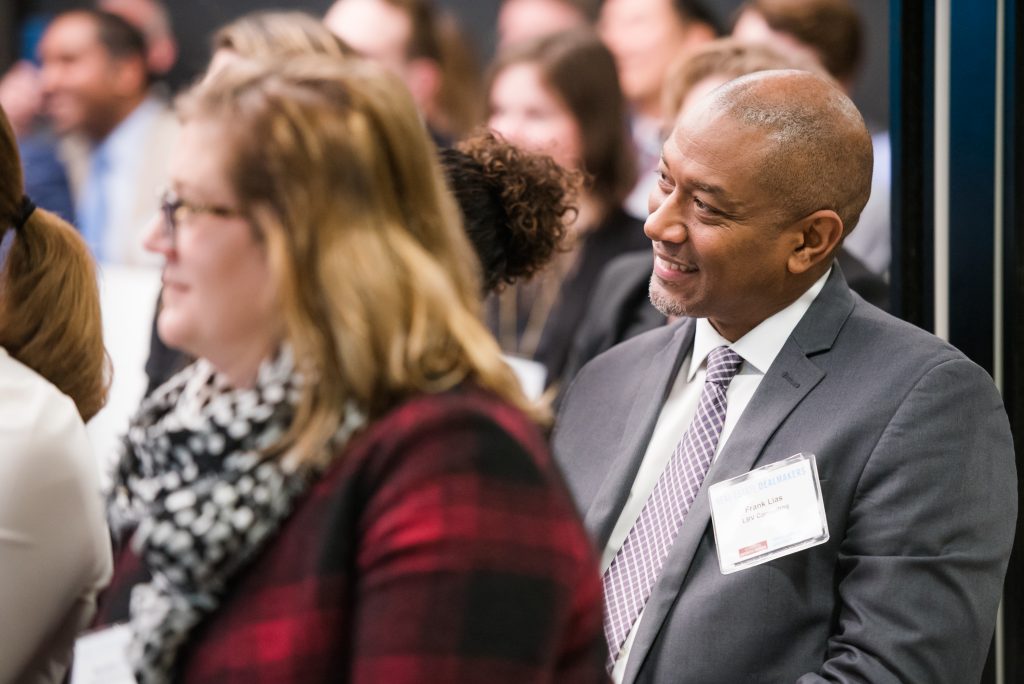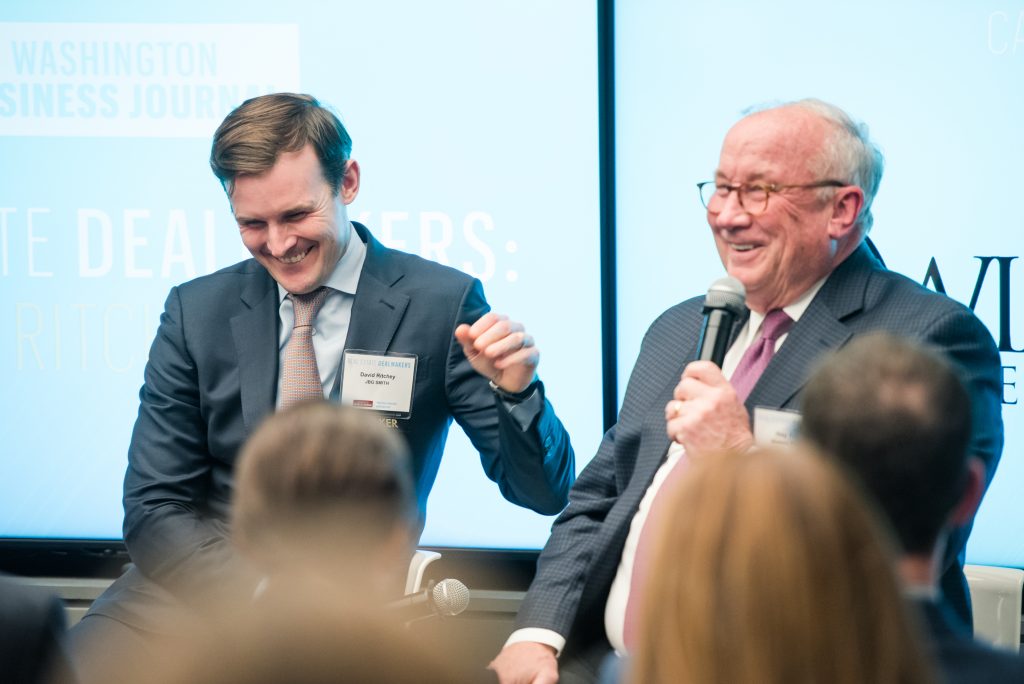 And once you ask Ray and David Ritchey about DC's commercial real estate community, you're going to need time for them to gush. For Ray, the industry here is more than a professional network — it's a family. He counts colleagues among his best friends, attesting to a warmth and camaraderie you won't find in New York, Los Angeles, Boston, or San Francisco. DC's community is rare. It's where colleagues can be family, even when family are your colleagues.
The audience agreed that DC is special. Roberta Liss, Regional Managing Principal of Cushman & Wakefield, seemed to speak for the group when she expressed her appreciation for the Ritcheys' positive leadership in the community: "It's very true that we have a unique community here in DC, and I just wanted to say that the reason we have this great city, the reason we have this great real estate community is because of the leadership, the love, the kindness — and you have set an example for us. I really just want to say thank you for that."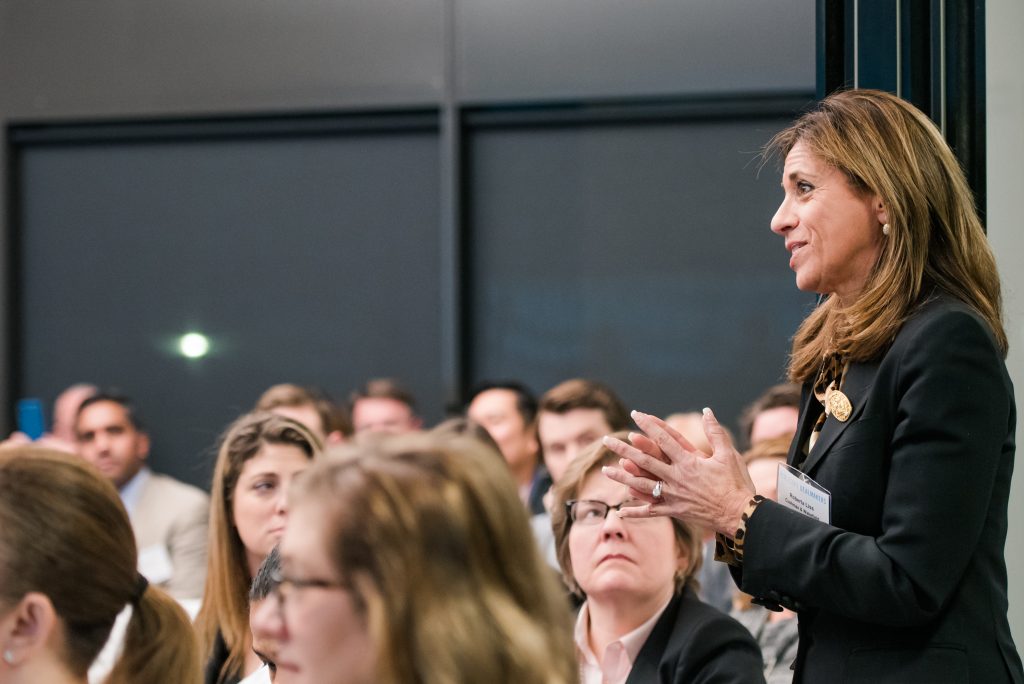 Don't miss the next FOX Architects event!