There is no DC design industry event as highly anticipated as IIDA Mid-Atlantic's Cosmo Couture. And for many of us at FOX Architects, it's an evening we wouldn't miss. This design competition pairs local firms with industry partners, challenging each team to create an original garment composed of the industry partner's materials. For Cosmo Couture 2018, FOX Architects paired with Milliken & Company. We were represented by our designers Lauren Pelletier, Laura Kacarab, Kelsey Hutton, Gina Milatzo, and Marisa Vinson, who modeled the gown on the runway.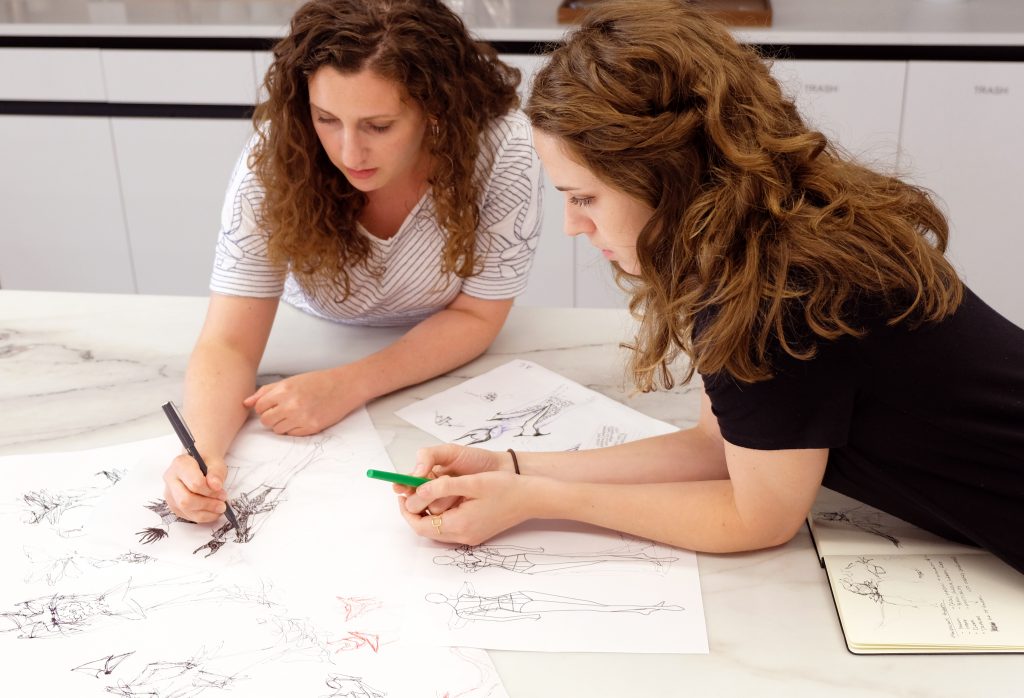 Our designers transformed Milliken carpet materials into an ensemble fit for the powerful sorceress Maleficent — our team's interpretation of this year's "lore" theme. This powerful shape-shifter is best known as the sorceress from Disney's Sleeping Beauty and from centuries of French and German folklore. Casting spells against Princess Aurora and other innocent victims, Maleficent transforms into a fire-breathing dragon, enveloped in green and purple flames.
FOX Architects partnered with Milliken & Company to depict Maleficent's metamorphosis from wicked human to otherworldly dragon. Rising green and purple flames of carpet yarn engulf the bottom of the dress, giving life to her dragon features. Layers of shimmering carpet backing create serpentine scales that give way to a dramatic vinyl tile collar. Black carpet backing wraps Maleficent's iconic horns — a crown of evil upon her head, and trailing behind her, a reptilian tail of vinyl tile.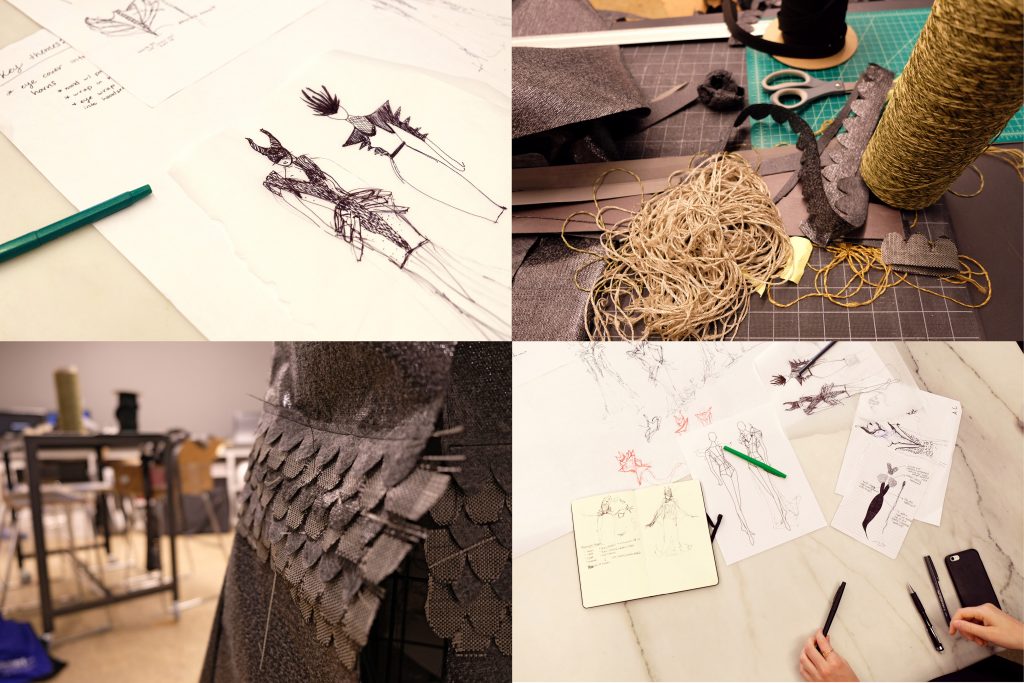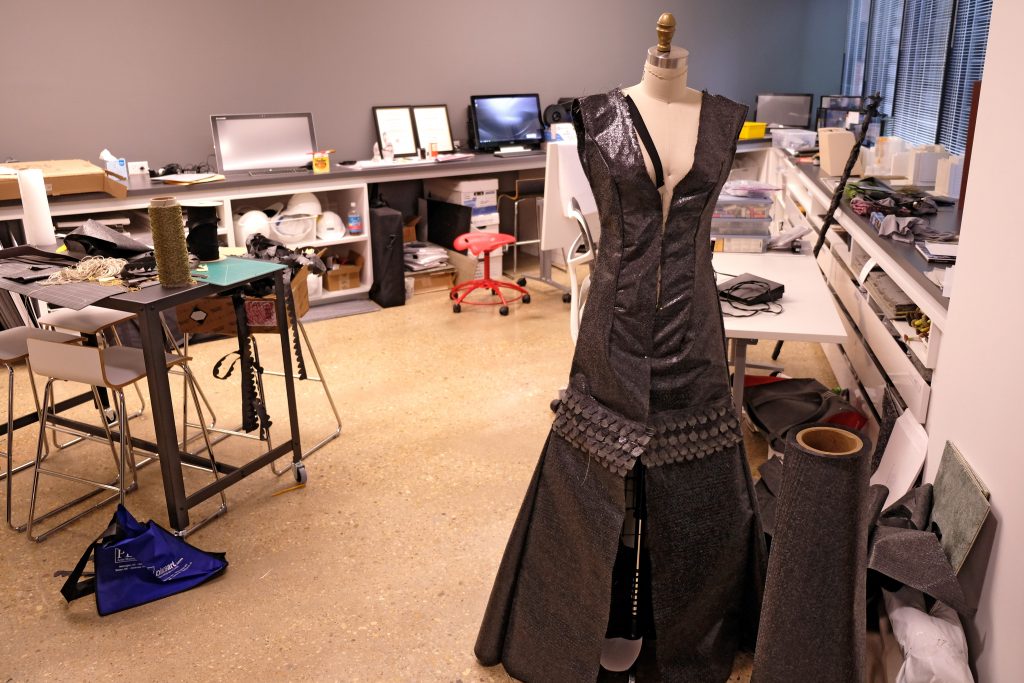 Our team chose Maleficent because the character not only aligned with the 'lore' theme, but with the neo-Gothic architecture of Washington National Cathedral, this year's venue.
Staff designer Lauren Pelletier explained how the team interpreted the character through design. "We began identifying the parts and pieces that embody how Maleficent is recognized, such as her color, staff, dark garment, and horns," she said. "One of the most dramatic elements in the fairytale is when Maleficent becomes a dragon. We decided to weave it into the dress and represent Maleficent mid-transformation into the beast. We dispersed reptilian elements throughout the dress, such as the scales and green fire tassels, while maintaining the iconic form," Lauren explained.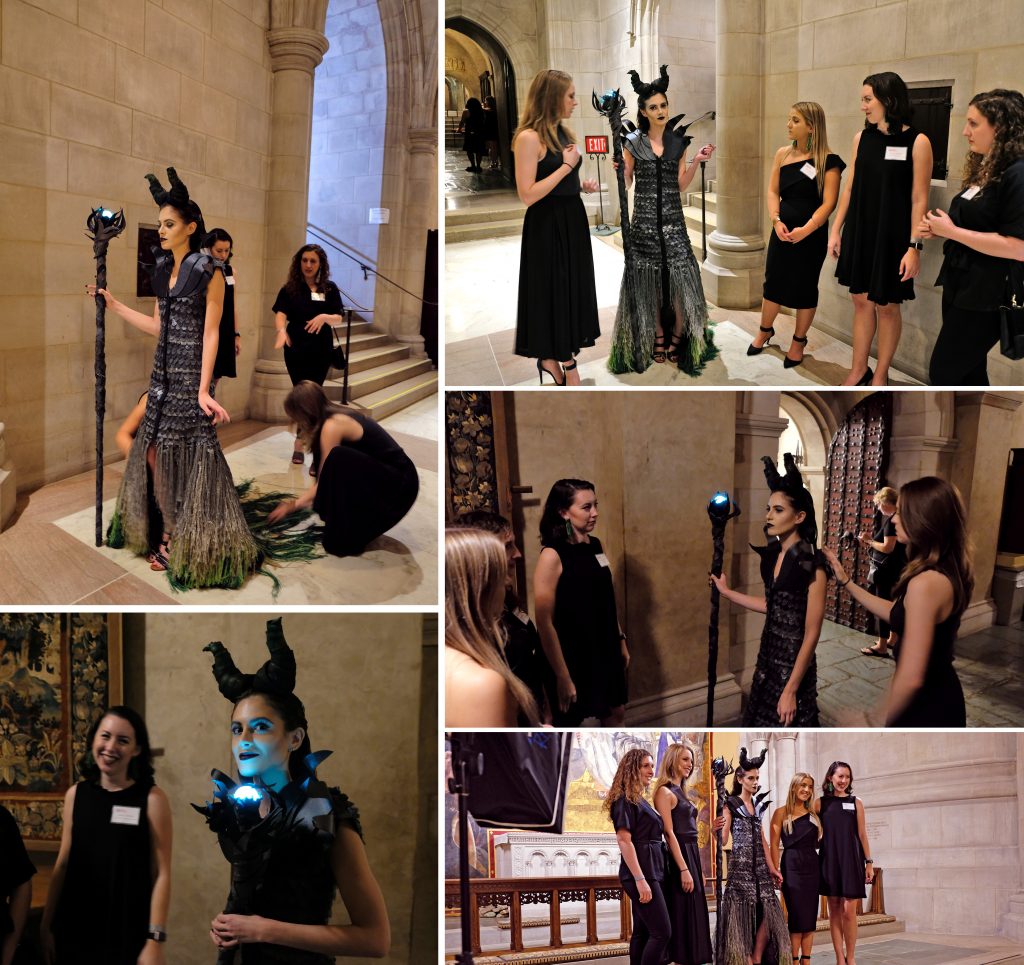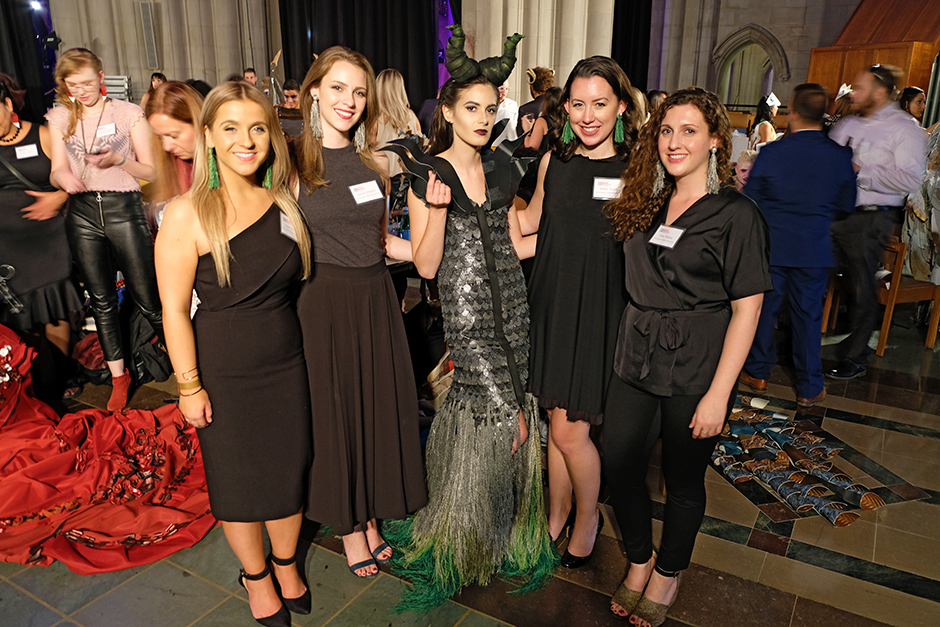 This year's event included entries from 22 firms and their industry partners. A panel of industry experts judged each creation before the models walked the runway, determining which team would go home with awards for Haute Couture, Best Performance, Best Red Carpet Look, Best Use of Materials, Best Interpretation of Theme, and Best Sketch. The final award, Audience Favorite, was determined by the hundreds of attendees who flocked to the cathedral for the large-scale runway show.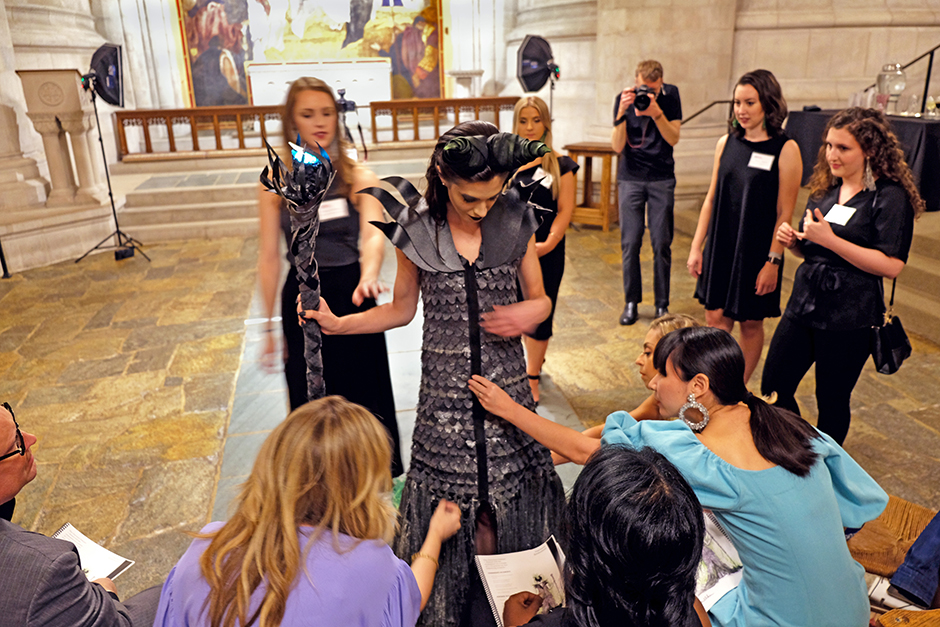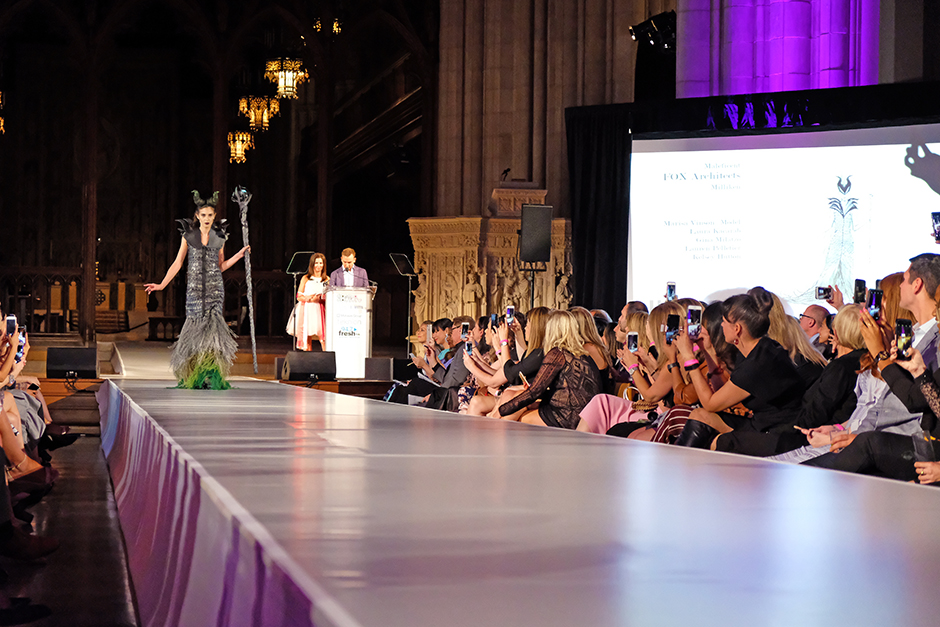 "Creating something with your hands and having it actually work is amazing," Lauren said. "Cosmo Couture allows us designers to be creative with the products we use on a daily basis and challenge ourselves to design for new contexts."
"I also really love the fact that by participating in this event, you give back in some way. It is always great to learn about what charity we will be representing that year and how what we do will affect their needs," Lauren added.
The 2018 Cosmo Couture event benefited a cause close to home: Love 4 Livi. Livi Pejo is an interior designer and DC-area native who was struck by a car while walking on a sidewalk at Dewey Beach, Delaware. Because Livi's substantial injuries require extensive medical care, Love 4 Livi was created to support the Pejo family.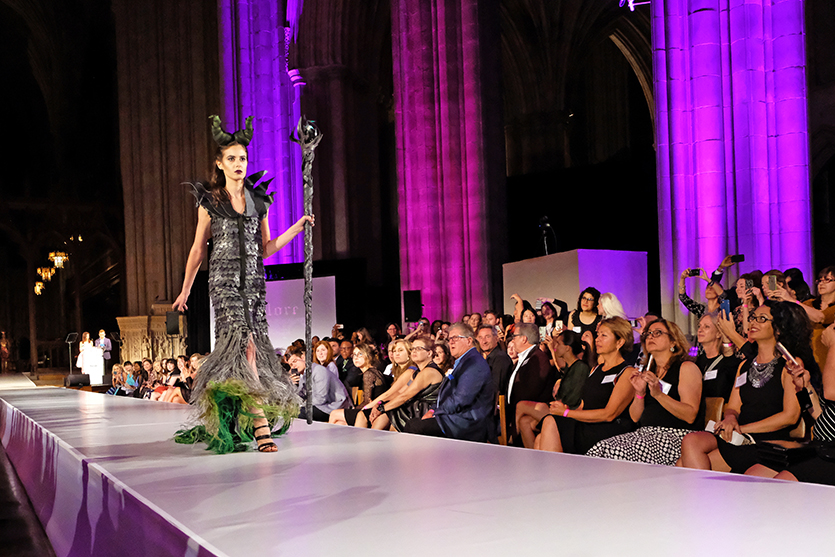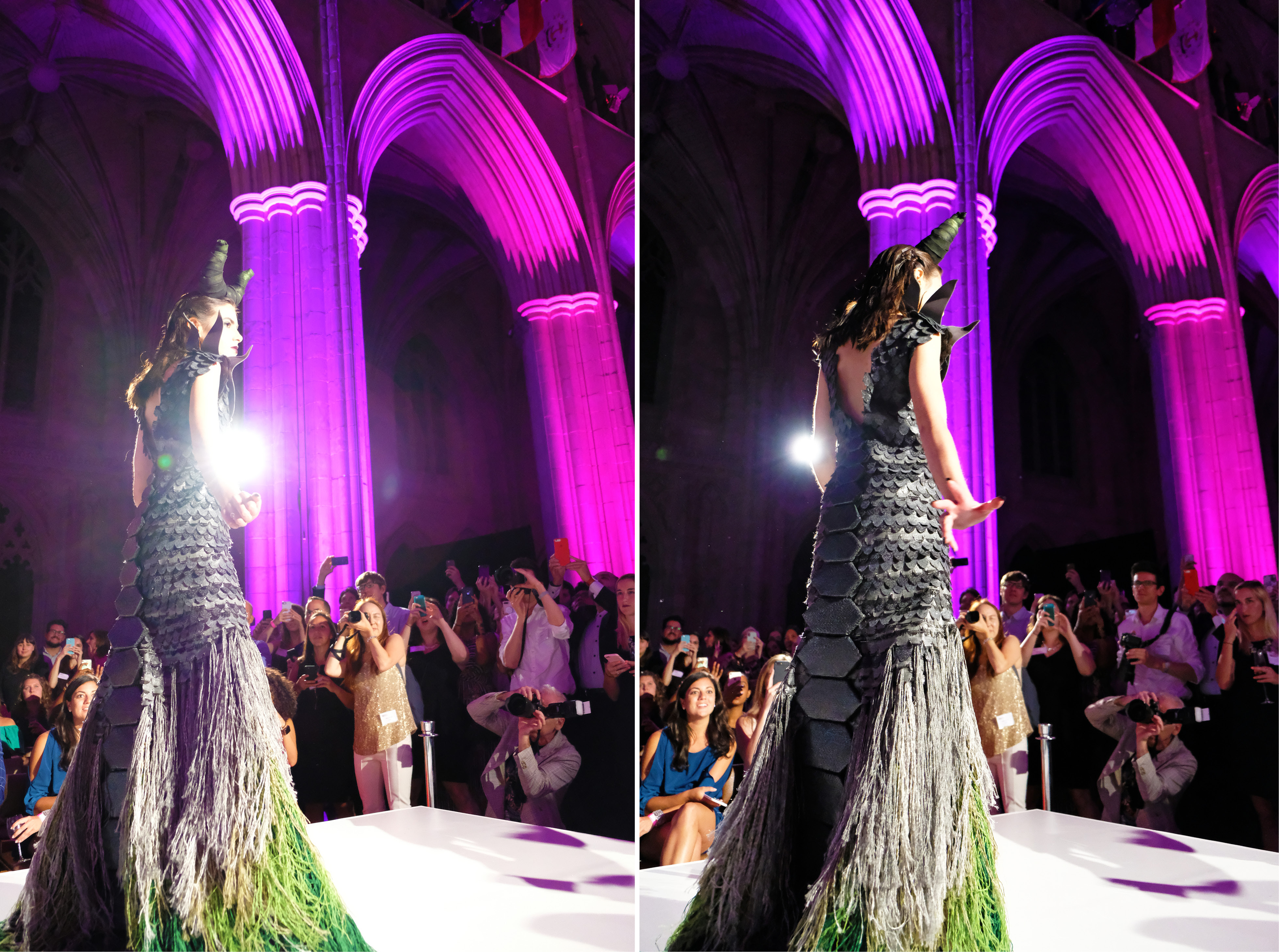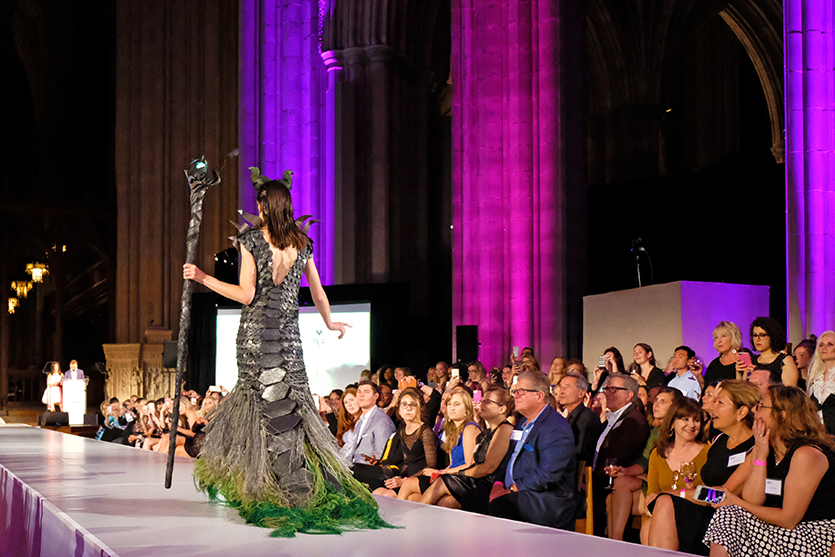 Winner: Audience Favorite
At the end of the evening, FOX Architects proudly earned the Audience Favorite award, winning the only award selected by the numerous attendees at the sold-out event! Pictured below is Marisa accepting the award and modeling the look for a final walk down the longest runway the event has ever provided.
Congratulations to our team and to the other participants for an outstanding evening celebrating the creative talents of the DC design community!