Architecture, fashion, and design met on the runway at this year's IIDA Mid-Atlantic Chapter's Washington Metro City Center Cosmo Couture event held at Howard Theater on September 28. The event celebrates the design world while benefiting Rebuilding Together of Washington, DC (RTDC). FOX Architects competed alongside more than 20 architecture and interior design firms and their manufacturing partners to design and create a garment to dazzle the judges' critical eyes as well as the runway audience.
This year's Cosmo Couture event focused on one theme that affects every part of the architecture and design world: the environment. With possible categories including both manmade and natural environments, FOX Architects team members Elizabeth "Liz" Pelletier, Lauren Pelletier, Laura Kacarab, Madeline Frost, Marisa Vinson, and Matthew George alongside manufacturing partner and sponsor Bernhardt Textiles & Design embraced the challenge of designing a garment inspired by the Arctic.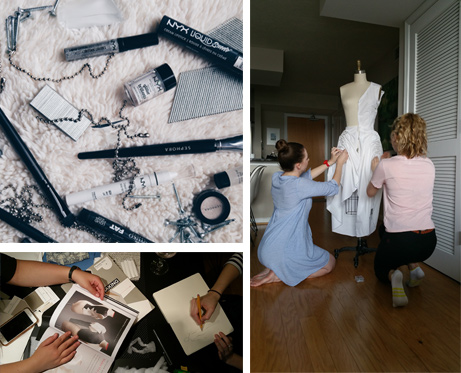 For the fourth year, FOX Architects has designed a striking garment with an unconventional use of materials. Using Bernhardt Design's textiles and furniture, the garment utilizes back-painted table top glass reflecting the snow's sparkle, black and white faux-leather upholstery showcasing contrasting darkness, accessory chains emulating icicles, and a soft silhouette outlining as a snow drift. Both the softness of the fabric and the sharpness of the materials show the Arctic as a harsh, yet starkly beautiful environment defined by contrast.
Although the final garment is rewarding, the process can be arduous. The FOX Architects team began brainstorming their concept in early summer after a meeting with Bernhardt Design and long hours of research. After numerous strategy sessions, one idea emerged to unify their Arctic-themed garment.
"The thing that really stuck out to all of us was the Arctic in particular has this really interesting sun cycle where three months out of the year the sun doesn't set and for three months out of the year it's complete darkness," explains Liz, Project Designer at FOX Architects and the team lead. "So that idea of contrast and that harshness in the environment is what we latched onto for our design."
FOX Architects is no stranger to the relationship between the architecture and fashion worlds. Whether a window is joining a wall or a pleat meets the next stitch, fashion and architecture both combine materials and vision to push the boundaries on intricate designs.
"The relationship goes both ways," says Liz. "Fashion designers draw upon the structure and beauty of form that architecture creates and vice versa. Designers and architects can draw from detailing methods and really expand the horizons by looking at fashion."
Despite the many sketches, stitches, and long hours that go into designing and creating the garment for the competition, the FOX Architects team embraces the chance to channel their creativity into fashion.
"It is an opportunity for us as designers in a deadline-driven industry often bogged down in the logistics of a project to really sink our teeth into something a little more pure in terms of design," says Liz. "We have a deadline, but we're not meeting a board and figuring out how many offices need to go into a space; we're really just channeling it into something we want to make beautiful."
The day of the Cosmo Couture event, the design sparkled on the runway and offstage as judges assessed how architectural elements translated into the handmade and detailed world of fashion couture.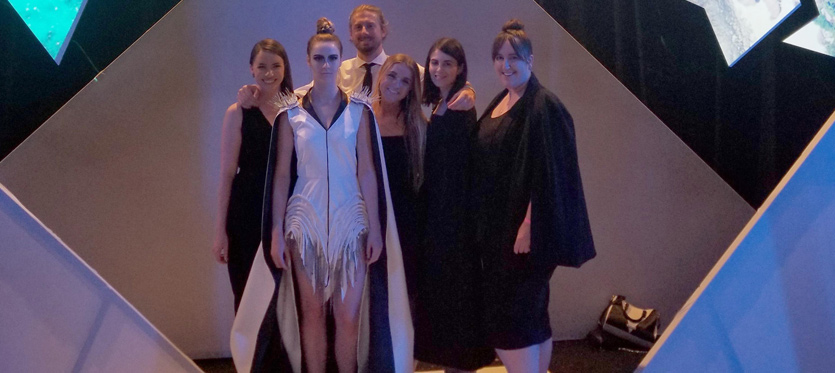 "The atmosphere at Cosmo Couture is unlike any other industry event. It's near impossible to match the anticipation and fun of a runway reveal," says Matthew George, Senior Marketing Coordinator, FOX Architects.
The benefit of Cosmo Couture extends beyond the garment itself as FOX Architects team members collaborate and build their skills in creative ways.
"The opportunity to work with my coworkers and other designers in the setting where we're not designing interiors or architecture, but instead using relationships and methods we've created as a team and then translating that into a totally different product is really rewarding," shares Liz.
This year's Cosmo Couture event may be over, but FOX Architect's relationship with the fashion world is year-round. Drawing from the spring 2018 designer fashion shows, Liz looks forward to dissecting upcoming fashion trends into architecture and design language that the rest of the FOX Architects team can apply to their work.
"I look into fashion trends and see how we can use those trends to predict what's going to happen in our industry of design looking ahead into the future so designers at FOX Architects we can be on the cutting edge of design," says Liz.