Project Showcases FOX Architects' Zoning, Design and Building Recycling Expertise
When Rockrose Development Corporation wanted a large-scale transformation and expansion to merge two existing, but separate buildings; 2001 K Street, NW and 2000 L Street, NW in Washington, DC, they turned to FOX Architects, the firm with whom it had already established a trusted working relationship.
FOX Architects is delivering in a big way for their legacy client, transforming the 8-story, Class B building into Alexander Court, a 12-story, trophy building, according to FOX Architects Principal Derek Wood.
When finished, the newly designed structure will:
Vertically expand to incorporate four additional floors, making it the tallest structure on the street with high-end, rooftop access and seamless indoor/outdoor conferencing capabilities;
Showcase a dramatically reconfigured and reimagined corner, 2 story-height main lobby that opens to a dramatic 12-story atrium center-piece that connects the two formerly separate office spaces; and,
Incorporate design and technology to deliver a new Trophy-Class Office Building through a Building Recycling process within the existing and evolving urban environments.
Recycling and vertically expanding this property requires highly technical knowledge of DC zoning requirements. These regulations are areas in which FOX Architects offers expertise necessary for large-scale, complex, urban projects.
"We understand perfectly what it takes to recycle this building," Derek said. "The scale of this design is enormous, but we have already done every aspect of this project on other urban recycling projects."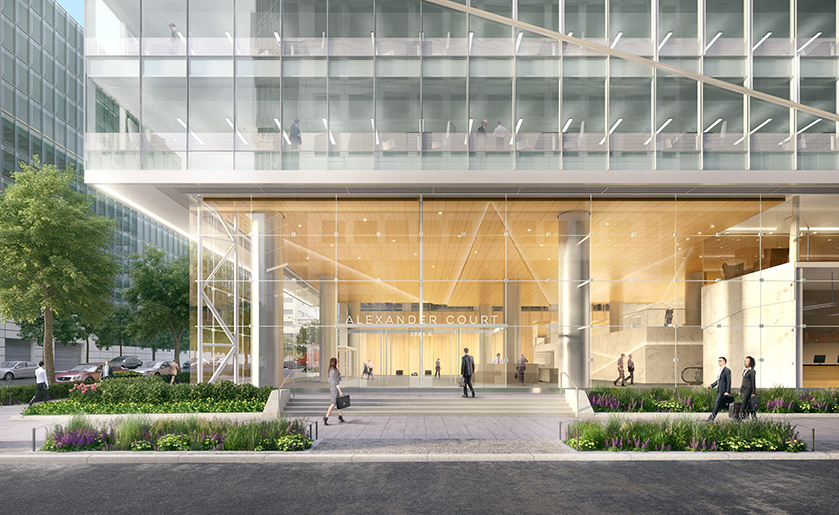 One of the biggest, most instantly recognizable building transformations, other than the four-story vertical expansion and new facade, is the relocation of the building's lobby. FOX Architects is moving the lobby from its current, uninspiring mid-block entrance to its future corner location. This will create much more dramatic curb appeal, increased visibility and improve pedestrian access from the street and nearby Metro stop.
The dramatic redesign continues immediately inside the lobby, added Westley Enterline, FOX Architects Senior Project Architect, through the addition of a 12-story atrium, which reimagines the former alley that currently separates the two buildings.
The lobby will now be able to accommodate client meetings as well as showcase artwork. Derek predicts that the grandness of the new lobby and the 12-story atrium will "rewrite trophy class buildings."
"The design in these two signature areas will create an immediate and proper introduction to this multi-level space," Westley explained. "A building's lobby is meant to accommodate action and get-togethers occurring in that space. Now those can take place under the new design."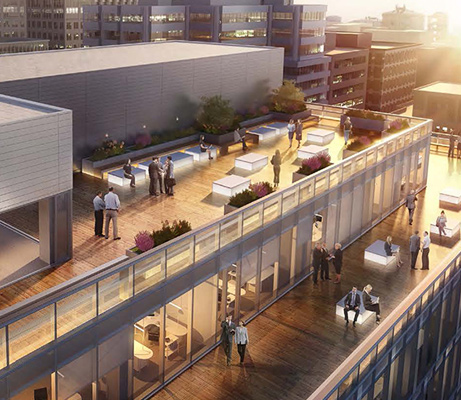 Derek also explained the addition of a high-end, rooftop amenity and tenant space, representing one of DC's first leasable penthouse spaces, something relatively new to this real estate market, which serves as another illustration of FOX Architects strong grasp of the zoning codes.
"Our new design allows the building owner to rent just a small portion of penthouse space with rooftop access at a higher rate than what the entire second floor would command," Derek said. "This represents yet another FOX Architects advantage: We can illustrate possibilities about a client's building that they might not know even existed."
Recycling a current structure comes with enough challenges, but an added layer of complexity came with 65 percent of the building's tenants remaining in the building during construction.
"The building's systems, from the elevator to the restrooms to the air conditioning, needed to be functioning while construction was occurring around them," Westley added. "All this activity has to swirl pretty seamlessly–both for the current building tenets as well as the design and construction crews."
Prospective tenants are already signing up. The building has been fully leased on many floors, including the top five, a little more than halfway through construction.
For Westley, one of the most powerful takeaways from this project is that "the client values our opinion. They entrust us to look at literally every portion of this work, including future tenant scenarios for the building. They seek our counsel. They value our opinion."
"Our work is about relationship-building," Derek said. "Our client trusts us, even in decision-making areas that may go outside a traditionally defined architectural role."