Washington, DC is often ranked among the top US cities for parks and green spaces and for the fitness of its residents. So it's no surprise that the rooftops of the District's office buildings are undergoing a major transformation. At FOX Architects, we integrate our expertise in design, zoning requirements, and building recycling to create new, awe-inspiring rooftop amenities that set trophy-class office buildings apart. Here are five rooftop amenities changing the landscape of commercial real estate in Washington, DC.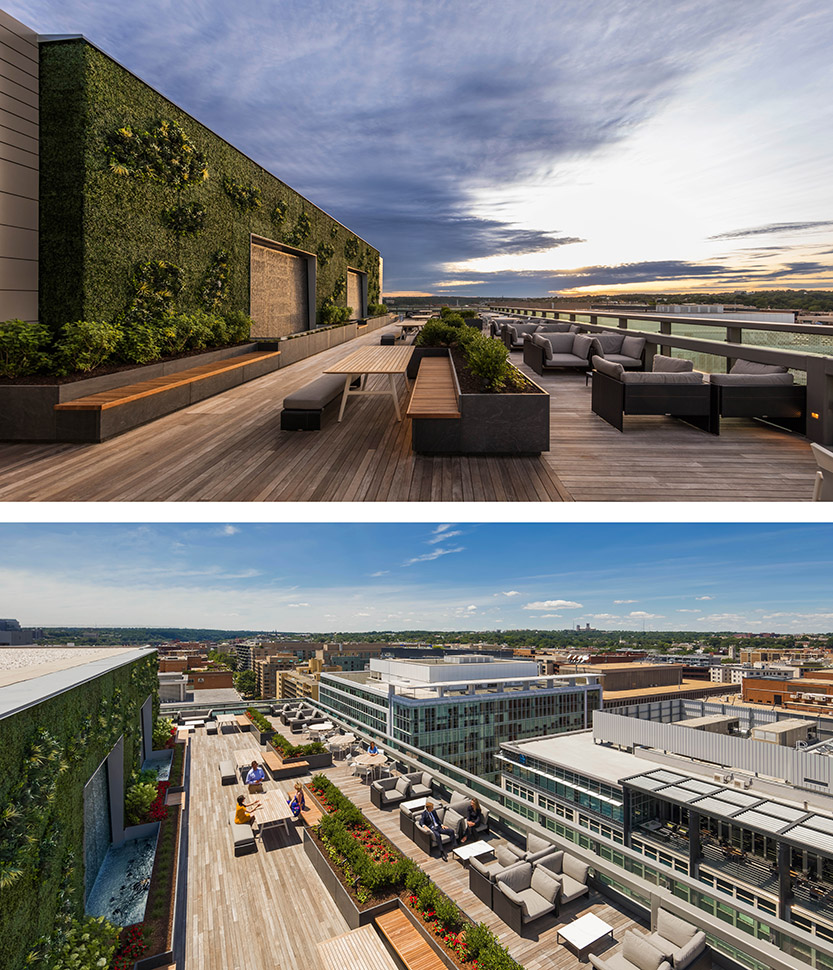 Design Architect: Pelli Clarke Pelli Architects; Architect of Record: FOX Architects
Totaling one million square feet, this trophy-class office building offers sweeping rooftop amenity views of the central business district. A multipurpose penthouse opens to the roof deck with an operable, glass Nanawall system — an elegant, flexible setting for hosting events. Water wall fountains, live planters with integrated benches, wood decking, and a variety of seating arrangements make the rooftop terrace at Alexander Court a calming, urban oasis. Learn more about Alexander Court.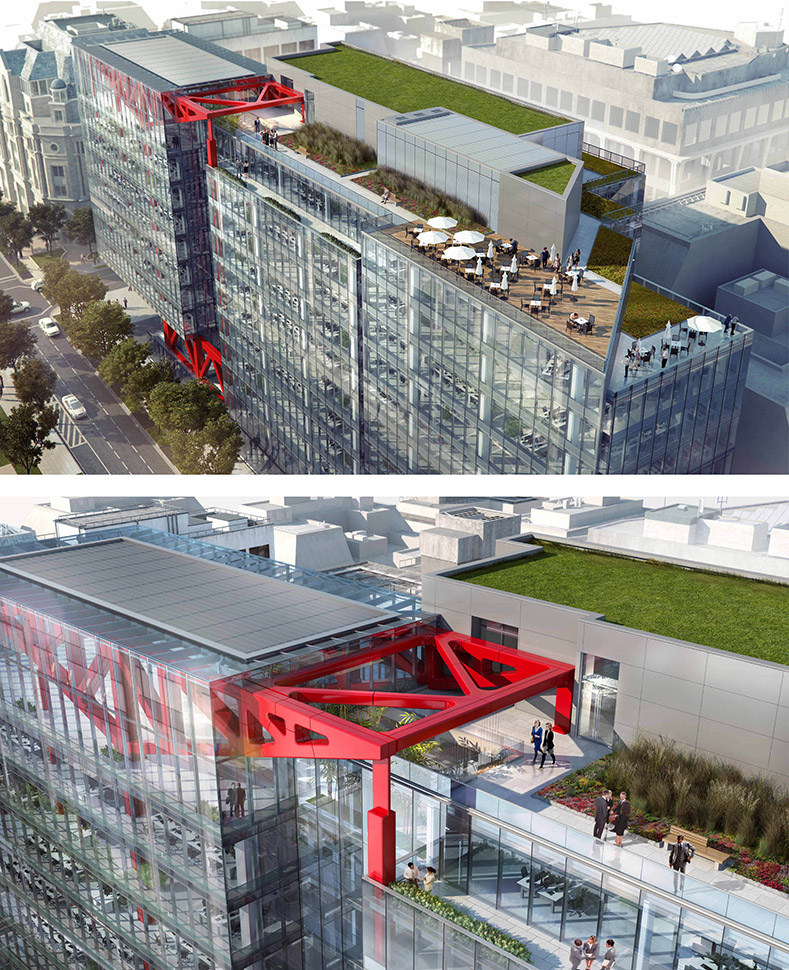 Design Architect: KPF; Architect of Record: FOX Architects
With an iconic red, structural truss and a unique, glass embellishment atop the building, 1900 N Street will be a remarkable building between Dupont Circle and the central business district in downtown Washington, DC. Hanging eight floors from above the eleventh floor, the truss provides a three-story, column-free, corner lobby below, and an engaging rooftop experience above. The glass-enclosed penthouse will offer a pantry, flexible meeting space, conference room, lounge area, and a separate warming pantry for catered, indoor/outdoor events on the sizable rooftop terrace. Learn more about 1900 N Street.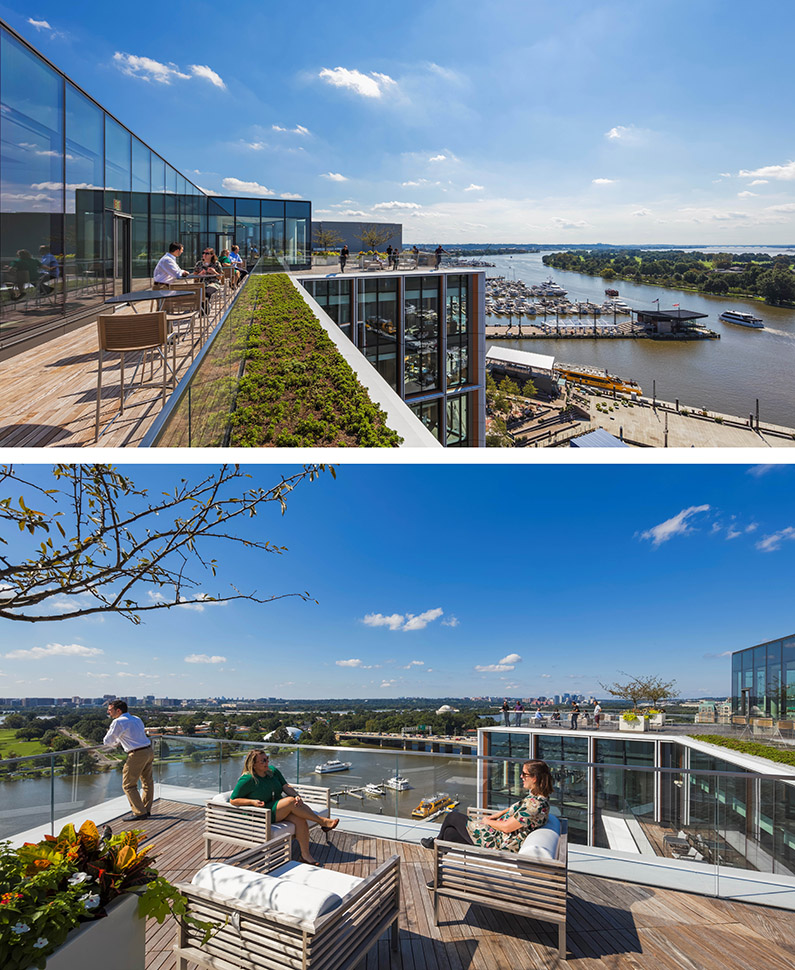 Design Architect: KPF; Architect of Record: FOX Architects
As the first waterfront, trophy-class office building in the new District Wharf development, 1000 Maine offers a new way of living and working in Washington, DC. This new development has revitalized the southwest waterfront neighborhood and connected the city to its waterfront along the Washington Channel. The building's unique design engages the site context with two split bars angling out toward the water, creating an expansive rooftop amenity with unprecedented, panoramic views. Tenants can take in sights of the National Mall and its notable landmarks, the Potomac River, Ronald Reagan Washington National Airport, and many more places of interest. Learn more about 1000 Maine | The Wharf.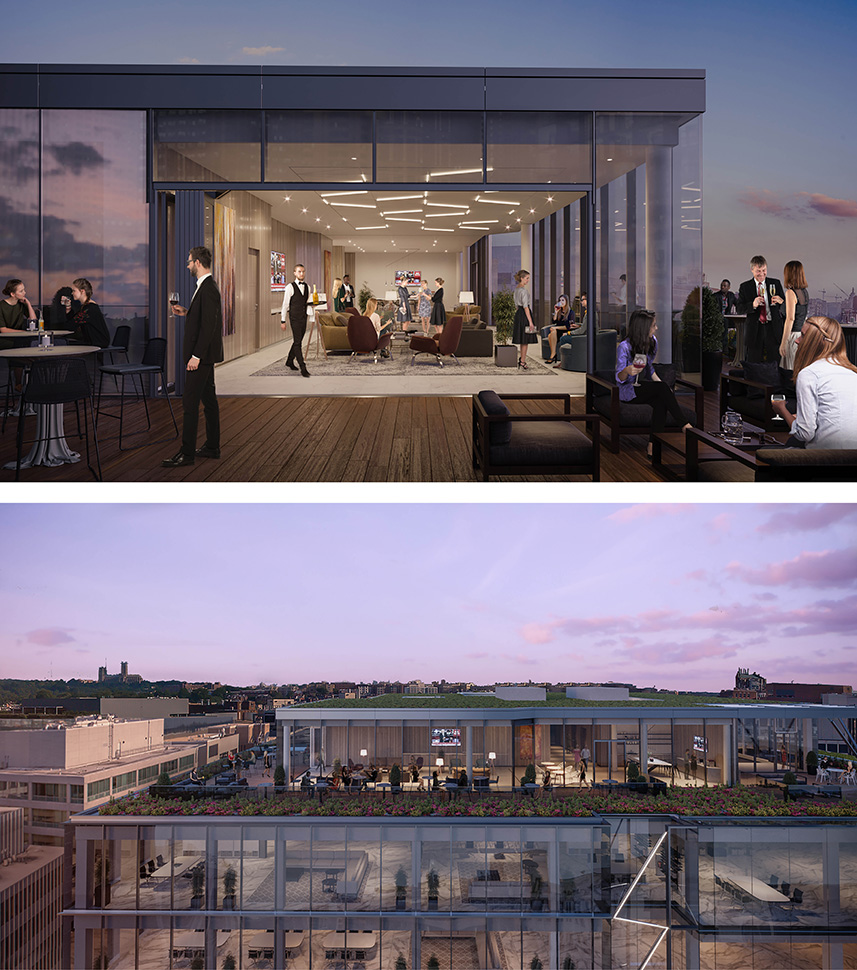 For our 1901 L Street building recycling project, we are utilizing the existing eight-story concrete frame and vertically expanding three additional floors plus penthouse amenity. With flexible options for indoor/outdoor events, the penthouse opens up to the wraparound rooftop terrace with an operable, glass Nanawall system. The multi-use penthouse will allow tenants to use the space as a lounge, conference, and event space, with a coffee bar, catering kitchen, and 11-foot ceiling heights. Totaling 1,760 square feet, the spacious terrace will enable tenants to relax, connect, and take a breath of fresh air high above the streetscape. Learn more about 1901 L Street.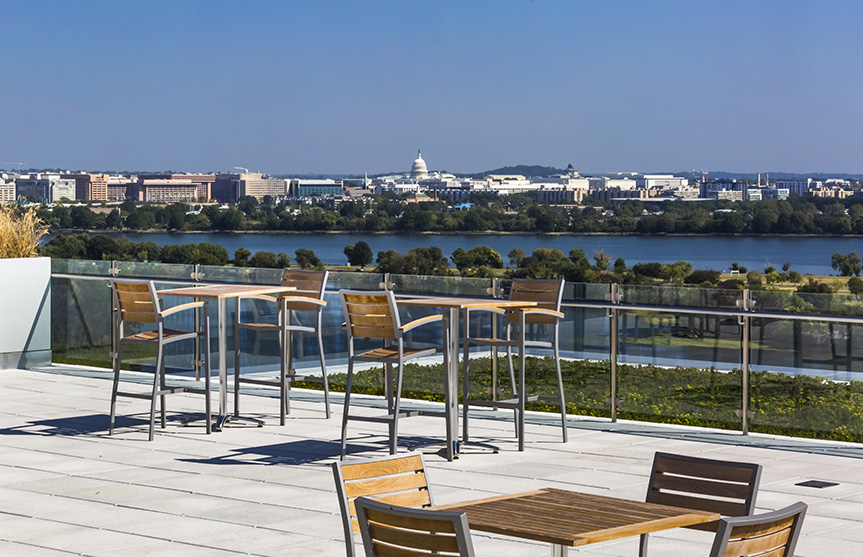 Equipped with a pantry for catering, the penthouse terrace at 1400 Crystal Drive offers a space worthy of events in Crystal City. (Or should we say National Landing?). With clear views of Washington, DC, the Potomac River, the United States Capitol Building, and other landmarks, this rooftop has plenty to offer tenants and their guests in a neighborhood that's about to see the addition of Amazon's HQ2. To help achieve a LEED Gold certification, we implemented an extensive green roof that adds biophilia for well-being and an enjoyable environment. These groundcover plants also help insulate the building against temperature changes, making them a sustainable design solution that benefits the natural and built environment. Learn more about 1400 Crystal Drive.