It started with a nearly impossible dilemma: Abandon the building that had served as the World Resources Institute's (WRI) Headquarters since 1999 and lose a great DC location or continue to squeeze employees into cramped, dark offices that no longer met their needs?
Fortunately for WRI, there was a third choice: Work with Jennifer Jordan, Operations Director and Andy Yeh, Principal at FOX Architects, to execute a dramatic renovation that recently earned LEED-CI Silver certification.
Adapting the office to meet LEED-CI Silver requirements involved a comprehensive look at the space. Everything from sustainable materials, indoor air quality, electricity and water conservation, and even bike racks in the parking garage for green commuters, contributes to the LEED score.
"WRI is investing in their employees, investing in their morale and productivity [by] contributing to employees' thermal comfort, daylight and views, and minimizing interior pollutants. A healthy space contributes to a healthy and productive person," Jennifer said.
Volatile organic compounds (VOCs), for example, like formaldehyde in furniture or emitted gases in paints and adhesives, can trigger strong reactions, especially with people with respiratory issues. Sustainability doesn't only refer to broad environmental conservation efforts. It can mean preserving the mini-environment where employees spend each workday.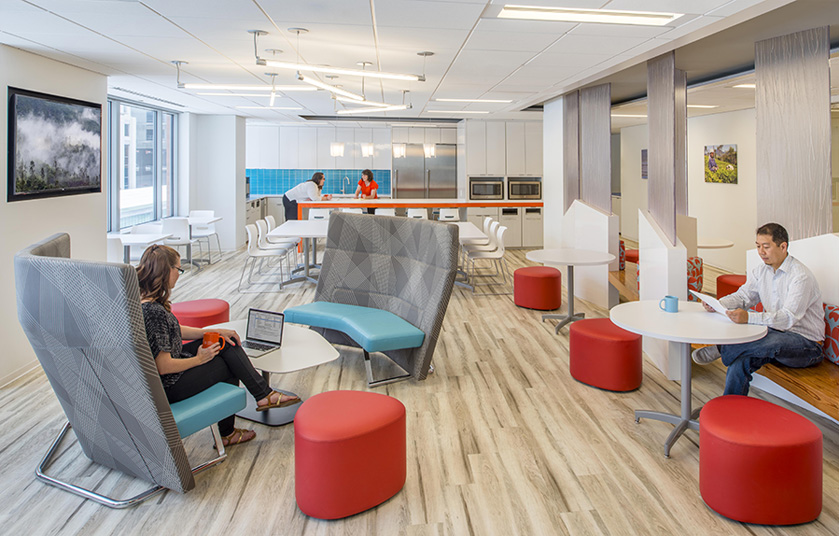 "The biggest challenge for them was their existing space lacked flexibility and collaborative spaces," Jennifer recalled. "Their space was dark and segmented. They were cramming too many people in an office, which creates an issue with indoor air quality and thermal comfort."
WRI's President and CEO, Dr. Andrew Steer, had a vision of an airy office inspired by a Scandinavian sense of light and simplicity. The design WRI and FOX Architects created prioritized meeting sustainability standards and showcasing WRI values like transparency, without overwhelming their renovation budget.
"We couldn't budget a flashy space. We focused primarily on their public spaces, [and] put a little oomph in the design," Jennifer said. "We were able to get WRI to Silver certification with no additional fee."
A little oomph goes a long way. The first striking change in WRI's offices is the openness and light. Using glass around conference rooms allows daylight to flood the office from one end to the other. It's a literal breath of fresh air for employees staying late to communicate with teammates across the globe. Jennifer pointed out that, almost like plants, people also need sunlight to thrive.
"You have team members in the office all hours of the day and night, so transparency across the board was incredibly important for them. We brought out an abundant amount of natural light with the layout of the space."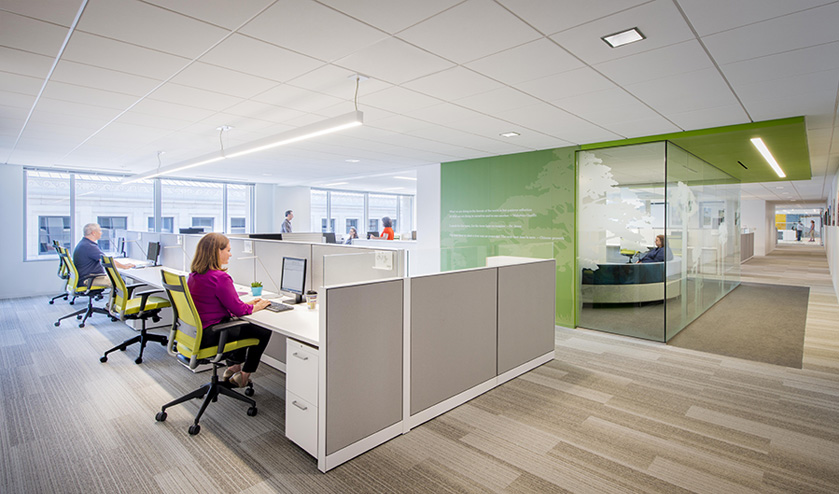 Wayfinding bursts of color help employees and visitors orient themselves and find teammates. The colors also honor WRI's various programs. Blue represents water, and green represents forests. Red nods to WRI's focus on cities and food resources, while yellow is both WRI's brand color and a symbol of energy resources. Workers can hang out in the central café or meet in the resource library, where transparency and flexibility makes it easy for impromptu collaboration to occur.
"I have to say, in the 21 years I've been in the profession, this is my favorite client, favorite project, hands down," Jennifer said. "We were very close with WRI. Having that successful story and continued relationship is a great resource at the end of the day."
Thanks to teamwork and design ingenuity, WRI gets to have it all: A "new" office that honors their commitment to natural resources and employee well-being, while also grounding them in their beloved home.