The Greater DC design community celebrated its annual night of fashion at the 2022 IIDA Mid- Atlantic Chapter's Cosmo Couture Event on October 6th at The Schuyler. The extravaganza of bold, provocative, and over-the-top design pieces honored this year's theme, Soiree. The crowd was captivated by 22 unique designs, inspired by design materials ranging from tile to leather, blurring the lines of fashion and interior design. Of these 22 teams, FOX Architects and six other teams strutted their way to a victory.  Read below as FOX's design team leaders Tyler, Wanyun and Molly discuss their journey to completing the Cosmo Couture 2022 "Red Carpet Ready" award winning piece.
---
How did the team brainstorm and evaluate the ideas for the Cosmo design?
Tyler:
When thinking of the idea for our firm's subtheme of 'Soiree', what came to mind was over exaggeration and theatricality – thus leading to the theme of 'Camp'. We then wanted to push this idea into more of an attention-grabbing humorous title, which developed into our firm's subtheme title "Sorry Not Soiree: Unapologetically Camp". This concept allowed us to think more broadly, but exuberantly when brainstorming ideas for our look. We then held a firm wide sketch charette to get as many ideas/concepts drawn out to see which direction we wanted to take for creating our garment. We had a lot of great sketches submitted, but the one that caught our attention and really screamed 'Camp' was a peacock inspired gown – a very theatrical and opulent animal.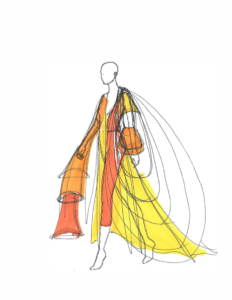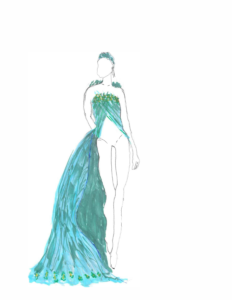 What inspired the final design for garment?
Tyler:
For the final design we really wanted to have the garment mimic anatomical parts of a peacock. We aimed to do this through a few different elements. The first was the coloration. Luckily, being partnered with BuzziSpace, there was an array of colors to choose from with their felt fabric line, so were able to use blues, greens and yellow to incorporate the vibrant colors of a peacock's plumage. Secondly, we wanted to create the outfit's shape to be similar to a peacock by having a corseted top for the more slender upper body/neck of the bird and then a train made from two long petal shapes to mimic the tucked back train. Lastly, we hand cut tassels to give the train a more full, fluffy feathered look.
Wanyun:
Male peacock carries beautiful feathers to show attractiveness. Our biomimicry approach is to celebrate our first male model in FOX and further push the boundary of model's gender of COSMO Couture.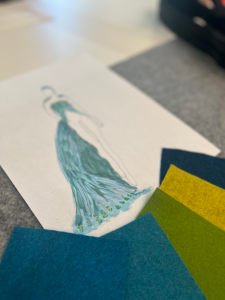 What was the biggest challenge the team faced while constructing the garment? How did you overcome it?
Wanyun:
Although we knew we need to trust the process, it's hard to do it when the dress was not yet in shape, and when our design was in the middle of nowhere. However, by spending time together to figure out the solution step by step, we had the dress coming along. It's like every design project in our work, it's always hard in the middle, and a well-bonded team could always pass us through.
Molly:
I think for me, the biggest challenge was overcoming my personal fears of sewing, LOL.  My mom is a really skilled seamstress and I've sort of avoided sewing during my life, since it seemed intimidating. About four weeks prior to the show, we had a moment of panic and realized we just really needed to bite the bullet, and cut the main portion of our train out.  I kept saying "Oh my gosh, I can't believe we did this today, I need to send my mom another picture of the progress. She'll be so proud!"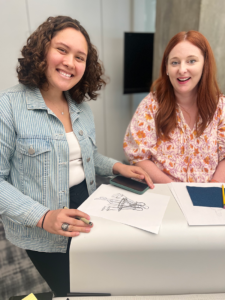 If you could change anything about the design, would you? If so, what would it be?
Molly:
Maybe if it could have been more sparkly?  It's a challenge to express shimmer with a matte material like felt.  But I think in the end, we created something that expressed opulence regardless of the amount of shimmer.
Wanyun:
I would add a metal peacock mouth mask like the McQueen SS 1998 untitled aluminum jaw mouthpiece, celebrating the recovering from pandemic.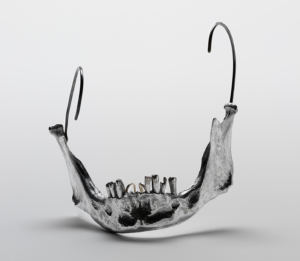 Other than winning, what was the most important objective for the team when creating this piece of work?
Tyler:
One key objective I wanted to achieve this year was bringing more androgynous fashion to the Cosmo Couture show. In the past, there were usually only a few male representatives that modeled for their firm and would tend to wear more masculine presenting garments. I wanted to step out of the box this year and have some male representation with more gender-fluid fashion on the runway.
It was exciting to see this year that FOX wasn't the only firm that incorporated this idea, as the number of male models about doubled from last time and several also created more androgynous garments.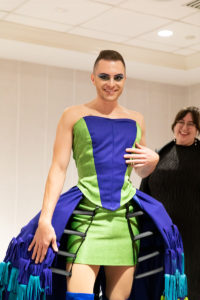 Molly:
Coming together as a team.  It was so awesome to work with this group. We don't normally work together on project work, so working together on this was so special. I learned that Tyler loves dad-jokes and puns, which surprised and delighted me.
Do you think the design pushed the boundaries on the events theme, "Soiree." Why or why not?
Tyler:
Pushing the boundaries was a primary goal of ours this year and I think we definitely accomplished that. In addition to anatomically mimicking a peacock with the garment, we wanted to incorporate Baroque elements that embodied the extravagant soiree fashion from the 17th and 18th centuries. We gave a nod to these classical elements through the incorporation of ornamentation with the feather tassels, panniers with the hip cage and corsetry for under the bodice which we grommeted and tailored for accentuation around the corset. Though they weren't the most comfortable elements to maneuver in, I think it paid off in completing the overall look as it seemed to get a lot of hype at the show and won us the 'Red Carpet Ready' award.

How many people on the design team were experienced versus new to the Cosmo competition? How did this dynamic impact the team?
Molly:
I would say it was probably about half and half… It was nice to have a mix of fresh perspectives as well as some more seasoned points of view.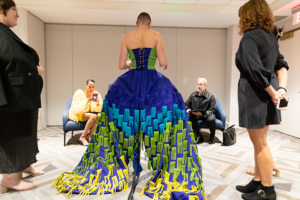 What are some lessons and skills you learned during this process that you can bring back into your daily work at FOX Architects?
Molly:
The ability to pivot when unexpected issues come up and redirect to arrive at a great design at the end.
Wanyun:  
Trust the process. Trust in teamwork. And be bold.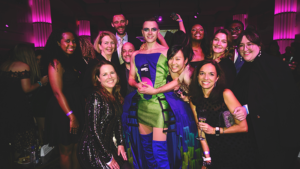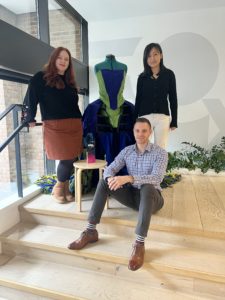 Meet the Team:
Molly Johnson has served as a Project Designer at FOX Architects for three years! Prior to joining FOX she attended San Jose State University where she studied Interior Design.
Wanyun Zhang graduated from the University of Virginia and now serves as a Staff Designer at FOX in the Architecture Studio.
Tyler Giroux  is a Staff Designer at FOX where he works in the Architecture Studio. He carries a Bachelor of Science degree in Architecture from Roger Williams University & Master of Architecture from School of the Art Institute of Chicago.
Check out our work! Click here.