The COVID-19 world pandemic has encouraged leaders across professions to reconsider the effectiveness of their current workplace design strategy. As society continues to rethink the traditional working models versus newer hybrid models, understanding how environments can impact productivity, employee wellness and collaboration is becoming essential. Explore how Cobec Consulting successfully made the decision to pivot toward an employee-focused approach.  
Author: Madeline Frost, Project Designer
---
For many of us at FOX Architects, March 13, 2020 is a memorable date. That's the date that we started working remotely due to the beginning spread of COVID-19 in the United States – many of us optimistically leaving our desks in their usual state of chaos, sure we would be back in a couple weeks. As we know now, that return to office would be pushed back considerably.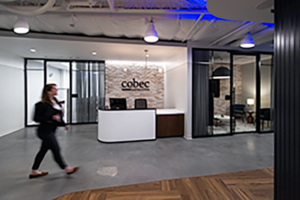 March 13, 2020 was also the scheduled date for our initial design presentation to Cobec Consulting, who were looking at the time to relocate from their existing space into the 11th floor at 500 L'Enfant Plaza. It was clear from the beginning that the team at Cobec placed utmost value on the staff experience. Initial visioning goals included maximizing natural light in the office space and creating a flexible and social atmosphere that encouraged the staff to bring their entire self to work. They identified a great existing culture that they wanted to keep and nurture within an innovative and thought-provoking environment.   
From the outset, the Cobec Consulting and FOX Architects teams coalesced around rich design concepts based on a vibrant neighborhood approach. There would be a social café with nitro cold brew, kombucha, beer, and sparkling water on tap, plus a karaoke setup integrated into the seating area. A raised platform stage would anchor the café, making it a space where Cobec Consulting could invite in not just their industry, but the community at large. On top of that, a separate prep area with commercial equipment meant that the Cobec team's passion for hospitality could be fully realized.  
At this point, the FOX Architects team was of course thrilled: a mission-driven client with an emphasis on an equitable staff experience and culture, and exciting design moves – what could be better! The team moved into developing the schematic design presentation, bringing the process of realizing design concepts and project goals in three dimensions. But, of course, no project is complete without some bumps along the way, and March 2020 hit the team with a bigger bump than anyone had imagined. 
By the time that initial design presentation was actually shared on April 24th, a whole new conversation had emerged: how do you design an office when you don't even know when or if you will be going back to it? When COVID-19 put the Cobec project on pause, as it did the rest of the world, the project challenge transformed into how to accommodate the changing landscape without completely stalling the design process. For the team at FOX Architects, it became clear that the need to pivot quickly would be the key to success – and we found we had the perfect partner with the Cobec Consulting leadership. The original "final" space plan developed in February 2020 had 104 permanent assigned seats, for an efficiency ratio of 167 RSF/person¹. After a re-planning sprint that spanned April to July, that number of assigned seats came down nearly 50%. Landing on 53 assigned seats, the plan was sitting at 329 RSF/person, a ratio that would have almost certainly been off the table just a few short months prior.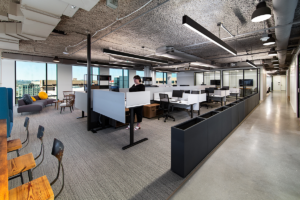 However, that sacrifice of permanent seats was going to be critical to the way the project moved forward. A key facet of Cobec Consulting's reworked space philosophy was an emphasis on shareable social space. Space that was previously dedicated to additional assigned seats was revised into both closed and open collaboration space. This giving-back of dedicated seating space to more social collaboration is a tenet that appears often in recommendations for the post-Covid office, and one that the FOX Architects and Cobec Consulting teams got a jump on early. Increasingly, research shows that workplace leaders are realizing the main thing lacking in remote work settings is effective and enjoyable ways to collaborate, ²and that this is one of the biggest values the office can bring to employees who are weighing what returning to office and giving up the flexibility of working from home means to them.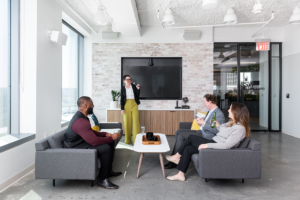 From a process perspective as well, the FOX Architects design team had to quickly adjust to the world of Microsoft Teams calls and the unique calls that come with virtual presentations. A completely virtual design process was facilitated through frequent design checkpoint calls, thorough meeting minutes, scanned-in follow up sketches, and a detailed working milestone tracker to manage the inclusion of a long list of consultants as well. As design turned into construction, the FOX Architects team balanced Covid-safe site visits with video calls with the talented Clune Construction team on site. To help communicate with the variety of consultants, Clune also facilitated regular Matterport scans of the site to share with stakeholders who were unable to be there in person.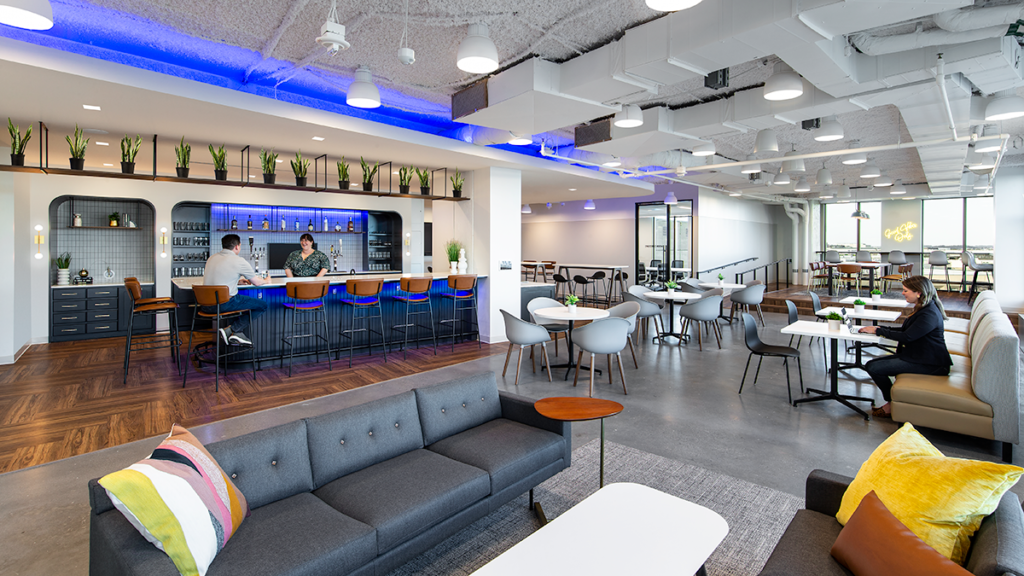 Now, about one year after completion, FOX Architects is excited to see the Cobec Consulting team move in and make this vibrant, neighborhood-based space their home. Cobec Consulting leadership describes the impact of the space on employee wellness including. IT Director, Nate Swetland shares, "It got me out of the house and back to a semblance of a 'normal' work-life.  It's nice being able to work from home when it's necessary but being able to physically separate my home life and work life makes a big difference for my mental health.  It helps being able to socialize with coworkers and face to face interactions make a big difference."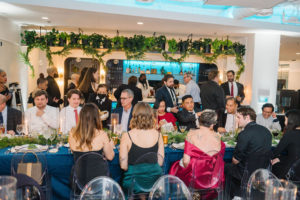 "We celebrated wellness month in March, coupled with a work event. New and old employees came in from out of town, and the masseuse was there for three days so everyone would have the opportunity to get a massage (in our new wellness room!). It was nice using an actual wellness room vs. a conference room like in our old space," details Tiffany West, Creative Consultant.   
When we reflect upon some of our "pandemic projects," the Cobec Consulting project stands out as a brilliant example of not just how to make meaningful changes during the design process, but also how to put people first throughout.  
 "I think what's so unique about it, is there is space for every personality type. Those that like to work quietly, those that don't mind some noise, and space for the in between. And the best view in the house is filled with couches and chairs for everyone to enjoy. Forget the CEO corner office, this space was built solely for the people." – Tiffany West
¹ RSF is the total square footage that equals the Usable Square Footage plus the tenant's pro rata share of the Building Common Areas, such as lobbies, public corridors, hallways, restrooms, etc. CARR
²Yang, Longqi, et al. "The Effects of Remote Work on Collaboration among Information Workers." Nature News, Nature Publishing Group, 9 Sept. 2021, https://www.nature.com/articles/s41562-021-01196-4.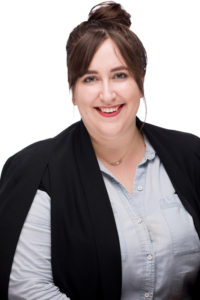 About the Author:
Maddie Frost is a Project Designer at FOX Architects.  Prior to joining FOX she attended Florida State University where she studied Interior Architecture & Design.
Interesting in reading more about workplace design? Click here.