As we embrace the winter chill and hunker indoors for the season, we're exploring a design concept beloved in Scandinavia: hygge. Pronounced "hyoo-guh," this Danish and Norwegian word is difficult to translate, yet its meaning is easy to embrace. Hygge is a social and design concept centered on an experience of coziness, comfort, and contentment. It considers how the built environment impacts one's sense of well-being and one's ability to partake in moments of rest and rejuvenation.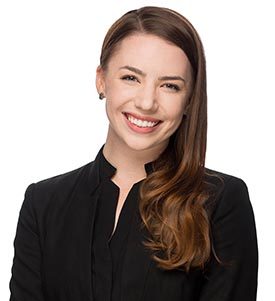 Despite hygge's associations with residential environments, it is quickly becoming incorporated into commercial and workplace settings to encourage wellness and productivity. For expert insight into this movement, we spoke with FOX Architects project designer Liz Pelletier, who has a wide range of experience designing for clients in diverse industries, including for MOI and Cordia Partners & Cordia Resources. Here's what Liz sees in the DC commercial office market, how she thinks about hygge, and how she approaches this concept in her work.
How do you approach designing a hygge space?
Liz: Hygge is very interesting because it's so personal. Coziness can mean many different things to different people and trying to capture that in one aesthetic is a big challenge. Instead of a specific aesthetic, the way I like to think about hygge is to approach the concept as a series of small destinations — creating moments or a feeling within a space, or in part of a space. My hope is that in creating those moments of hygge, each of those spaces will speak to different individuals. It's creating spaces that are inviting, which draw you in and make you want to linger. Anything that makes you feel nestled in and comforted is the start of a hygge moment. Hygge is the idea of comfort and freedom at the same time — a deep feeling of contentment that's really important for connecting with the space.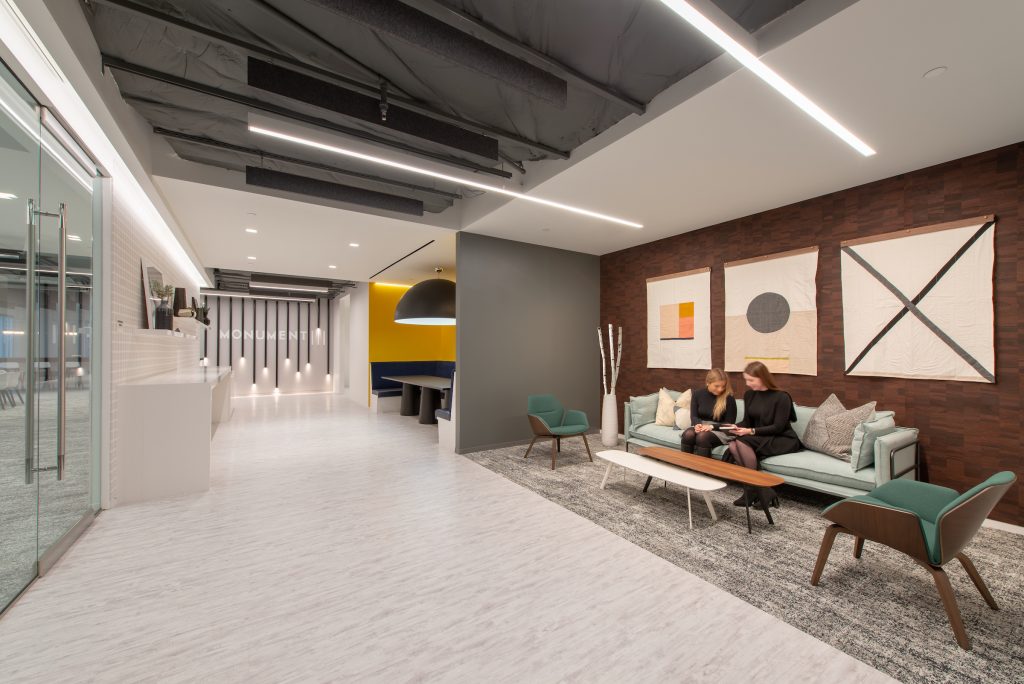 At the Monument III office building in Herndon, Virginia, we created a series of unique nooks that offer moments of rest and comfort.
Hygge is often defined through Scandinavian design elements. Is this aesthetic important for creating hygge moments?
Liz: I think the definition of hygge needs to be expanded. The imagery you always see connected with hygge is very Scandinavian because that's where it originated — blonde wood, a sheepskin throw, etc. — but that's not everyone's cup of tea. In the interiors business in DC there's a wide variety of preferences, and what's comfortable and inviting to one person might seem stark and uninviting to others. Some of the joy I get out of interior design is trying to figure out what each client's comfort level is and designing around that.
Hygge is usually conceptualized within a residential environment. What role is there for hygge in the workplace?
Liz: There is room for hygge in the commercial environment because there is now a focus on creating a variety of environments within an office. It's important to create balance in types of spaces in the workplace, with breakout spaces to supplement the more traditional work environments. Perhaps there's a space in the office for more intense work at a desk, with bright lighting, but there's also a place to escape from that when you're doing less intense work, and that escape space is where hygge can really come into effect.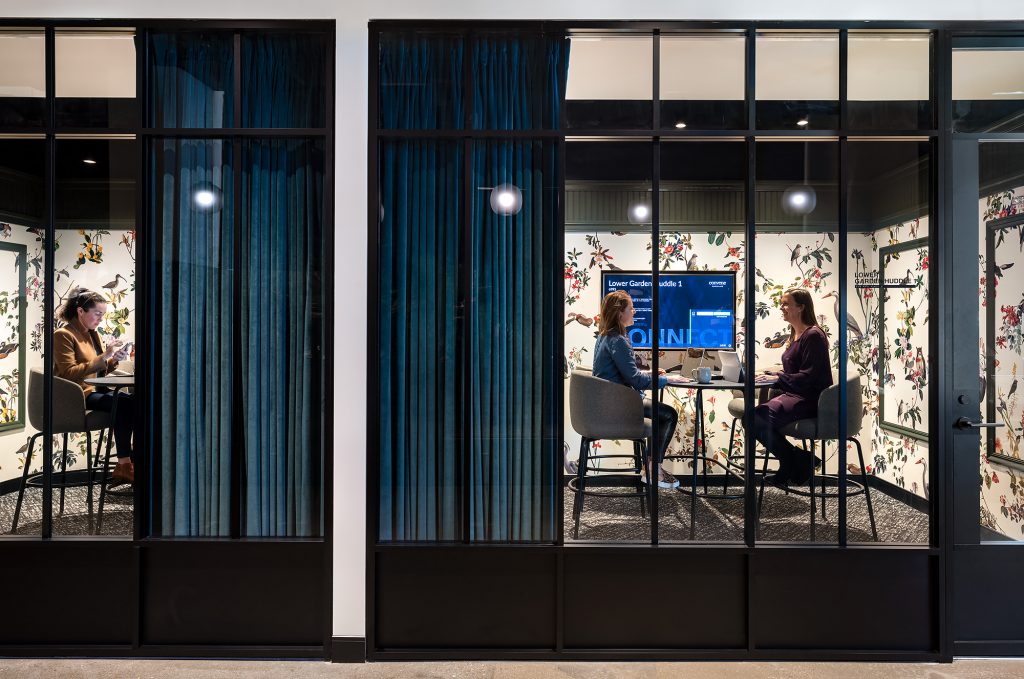 Convene at Terrell Place offers a hospitality-driven atmosphere, with softer touches like draperies and rich, inviting tones throughout the space.
What are the general features of a hygge space?
Liz: In an office setting, contrasting materials can take a space from hard to inviting, and the contrast makes the soft moments even more enticing. Accessories also play an important role in creating the hygge environment, and it's important that those accessories are tailored to the client as meaningful objects that resonate with them and add to an enjoyable space. It's less about specific finishes and more about textures and layering. When you start to layer different textures and different hardness and softness, it starts to create that destination. Contrasting textures, materials, and colors, and layering those pieces together, makes a space more visually inviting. It makes you want to stay and relax. For example, there might be a hard floor, a soft area rug, lighting that's brought down lower and dimmer, and enveloping seating.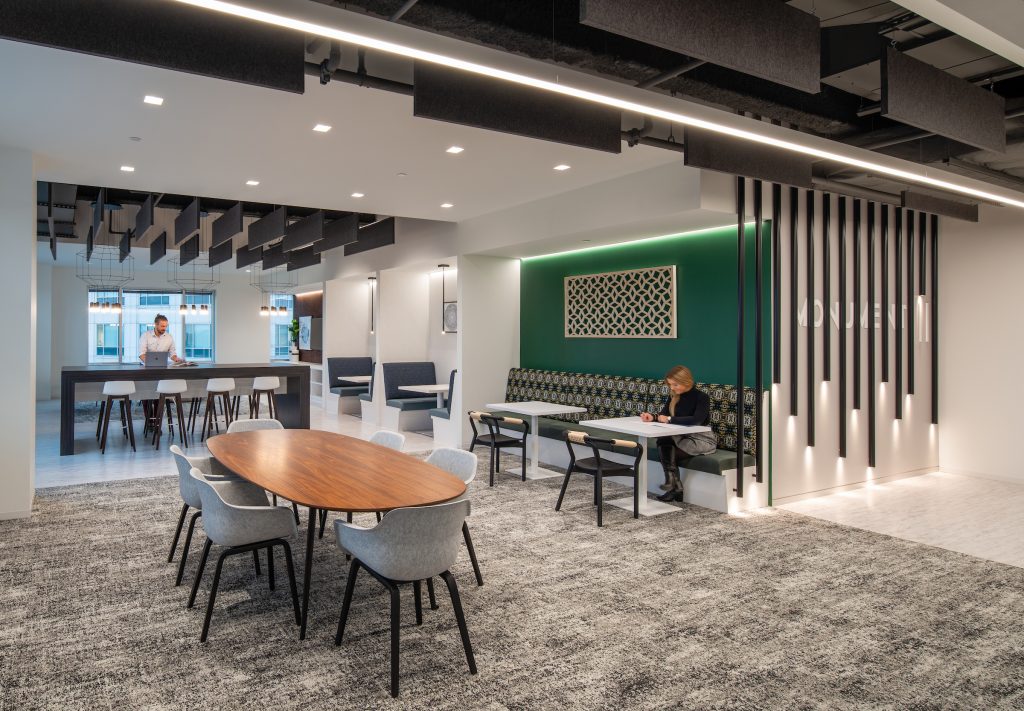 A nook in the amenity space at Monument III.
Liz: One important aspect of hygge is creating a sense of place. One of my favorite ways to go about that is with the lighting. There's a specific type of lighting that denotes 'work environment' and by switching that into a glowing or softer space, that helps to notch up the hygge level. Considerations such as the fixtures, quality of light, and the way the lighting is detailed can make a big impact. Hospitality spaces do lighting really well, with dimly lit corners created by one cove light or a floor lamp that illuminates an area and creates a safe haven effect. It draws you in and makes you want to read a book there or sip a beverage. And in an office, we can create moments where the environment feels different through design. It's for those moments of reflection and release that we need in order to be productive. In interiors, it can be tricky to create moments of hygge when we're working in existing buildings where we're already confined by a hard shell, but that's our challenge and our goal — to create a new environment.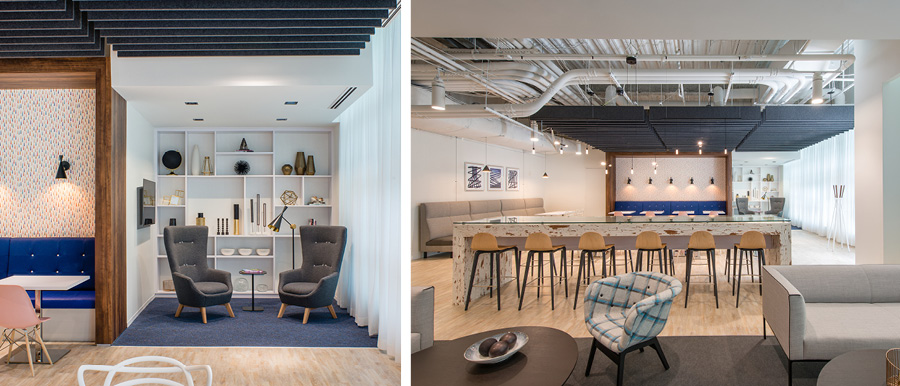 At 11111 Sunset Hills, we transformed the lobby and this amenity space into a series of hygge moments that draw you in and provide a sense of cozy seclusion. Sheer draperies soften the aluminum and glass facade, diffusing light for a comfortable glow within the space.
What kinds of spaces are good candidates for hygge moments?
Liz: Lobby spaces are becoming less of a place that people just pass through to get to where they're going and more of a place that people want to linger. In a building lobby, you can really create a sense of place. It doesn't have to be where people just sit uncomfortably, waiting for someone to let them up in the elevator. And because we have work mobility on our phones and tablets, people have more incentives to spend time in different environments if the atmosphere is inviting.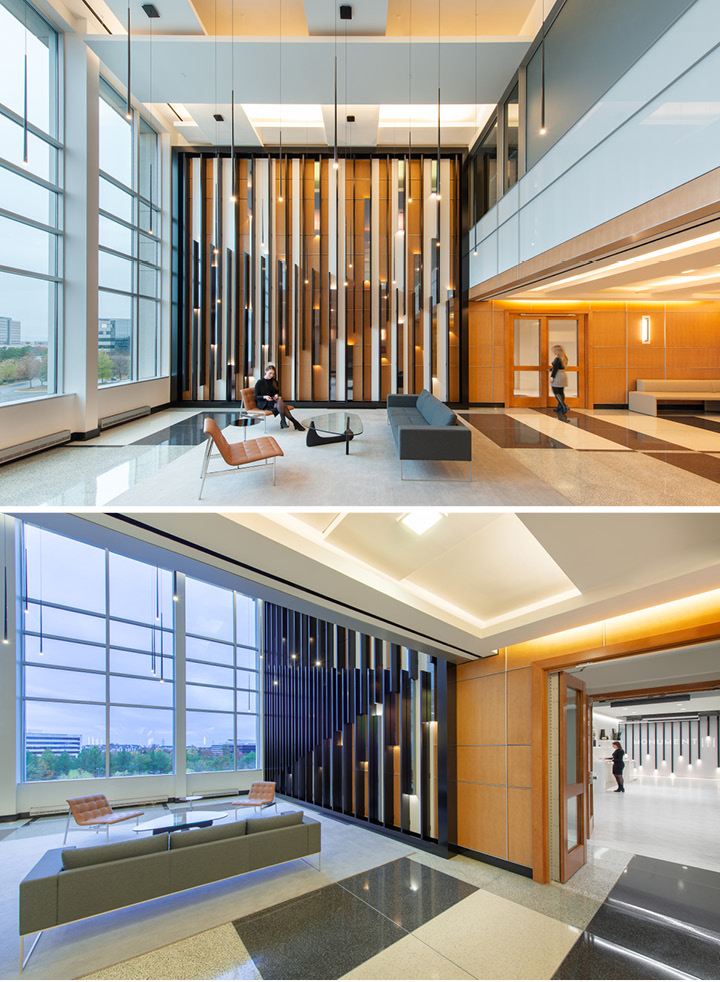 We transformed the Monument III lobby into a hygge-inspired art installation, creating a sense of arrival and signaling the amenity space beyond the entry.
Hygge is usually associated with winter. Is this a seasonal design concept?
Liz: Hygge is rejuvenation. The concept is about understanding what makes you feel comfortable and allowing yourself to thrive in that environment, if only for a time. Whether it's summer, spring, winter, or fall, we all need that sense of rest and rejuvenation. Traditionally, the focus has mostly been on the indoors due to the Scandinavian winter climate — your indoors need to be really comfortable and beautiful because outside is so cold — but we can create comfort in any season. Maybe in the summer that comfort level is more like drinking a cold brew coffee near the air conditioning vent, and that's what makes you feel cozy. It's creating those spaces where everyone can find their comfort spot and be at their best.
In MOI's large, open office environment, we incorporated free-standing booths for cozier, intimate spaces within the larger volume.