by Frank D'Andrea, Project Architect at FOX Architects
Welcome back to Frank's Field Notes: a log of my journey through AIA's Christopher Kelley Leadership Development Program. If you're new to the series, you can catch up here.
This session of the Christopher Kelley Leadership Development Program started off with a bang! Entitled "Working Together," this session covered strategies for collaboration and cooperation in architecture and beyond. The day involved personality tests, tips for when (and when not) to pick up your phone, and lessons from improv. Yes, the kind of improv of Who's Line Is it Anyway? fame.
Cable Clarke, President of Clarke Consulting, discussed firm culture and which personality traits are desirable in leadership. CKLDP scholars were asked to complete a Life Styles Inventory (LSI) assessment test, which assesses character traits that may help or hinder personal interactions and leadership abilities. We were taught how to interpret the results of the test, which will be important when we take the test at the end of the program to see if there was any change in our leadership abilities. My results are posted below. Check back to see if they change after I complete the program!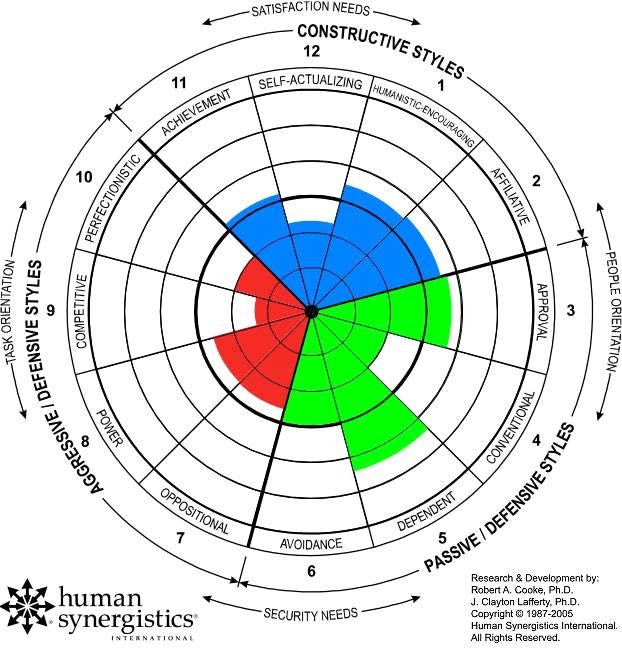 Cable explained how a firm's culture is set at the top of a firm's hierarchy and permeates downward. I have found this to be true at every place I have worked. Bad culture at the top leads to bad culture below, and leaders need to assess whether their personality traits enable a healthy culture. We often talk about architects being uniquely untrained in the art of management, but these leadership problems are not unique to architecture. Leadership requires a lot of work—frequent, self-evaluation to ensure you're providing healthy influence on your firm's culture.
The second presentation was a blast and involved the entire group growling at each other like tigers! Shawn Westfall, CEO of Commedia Partners, led the group through several improv exercises to demonstrate how working together requires a collaborative mindset — saying, "Yes, and," to enable free-flowing ideas and an awareness of your collaborators' input and attitudes. If someone tries to dominate a scene, isn't listening, or rejects ideas, the scene will fall apart. And what's true for improv is true for the workplace: successful collaboration requires open minds and people who are committed to listening to each other.
Synthesizing the lessons of the day, David Shove-Brown, Partner at //3877, articulated what's most important in communicating with various stakeholders in an architectural practice: surround yourself with people who complement your strengths with their own, don't avoid hard conversations, and be honest and upfront. David reminded me that sometimes the most impactful concepts are also the simplest.
If I learned one thing from the session, it's that communication is hard and takes practice. Since we communicate every day, we treat communication as something we know how to do well, but that's just not the case. This session gave me several tools for improving my communication as an architect and leader as I build my career. And if that fails, I could always try improv!
Catch Up on Frank's Field Notes
Next Session