If you've worked in the design industry in Washington, DC, you probably know that IIDA Mid-Atlantic's Cosmo Couture is the highlight event of the year. This design competition pairs local firms with industry partners, challenging each team to create an original garment composed of the industry partner's materials. For Cosmo Couture 2019, FOX Architects teamed up with Knoll to create a gown for this year's theme: memory. Our team interpreted this theme with their concept, "Dear Diary." This year's event, hosted at Washington National Cathedral, benefited Operation Renewed Hope: a nonprofit on a mission to end veteran homelessness.
FOX Architects and Knoll designed the gown inspired by a bound book of reflections. A rigid exterior represents the book's opened cover, out of which a lifetime of stories unfolds. Pleated textiles symbolizing each page gather at the waist, protected by a metal lock and key. As the pages unfold, a bookmark is revealed between cascading layers of textiles.
We spoke with some members of the FOX Architects 2019 Cosmo Couture team for their perspectives on this marquee event and the unique challenges the competition poses for designers and their industry partners. Here's what Stephanie, Kelsey, and Lauren took away from this unique experience.
What was most rewarding about participating in Cosmo Couture, or, what are you most proud of?
Kelsey: The most rewarding part about participating in Cosmo Couture was collaborating with my coworkers in a different form of creativity. I am most proud of how this collaboration brought together our designers who typically do not work on projects together or who sit in different studios. Together, we traveled all the way to East Greenville, PA to Knoll's factory to go "dumpster diving" and gather materials to recycle into a runway look!
Stephanie: Being able to come together as a firm to create something so unique was incredible. It gave us the chance to apply our design backgrounds in a different way, and talk to people in our firm that we don't ordinarily get to talk to. I'm just proud we came out of this experience with a finished gown, and that it really was a team effort. There was not a night where one person was working by themselves to get this done — we all worked together.
What was the most challenging part of your project?
Lauren: Constructing a garment, whether it's simple or complex, requires a different type of thinking and hands-on action. You almost need to switch gears for how you should sequence the fabrication of the dress. The unconventional materials themselves also encourage us to stretch our brains for creative ways to make industrial/commercial materials appear to flow like fabric or become sculptural elements.
Stephanie: Only a couple of us had ever sewn before this. You don't know how a material is going to react or flow until you actually mock something up. Sketching and designing only gets you so far. We had to construct a couple different iterations of the gown and adapt our initial design due to the types of materials we were using.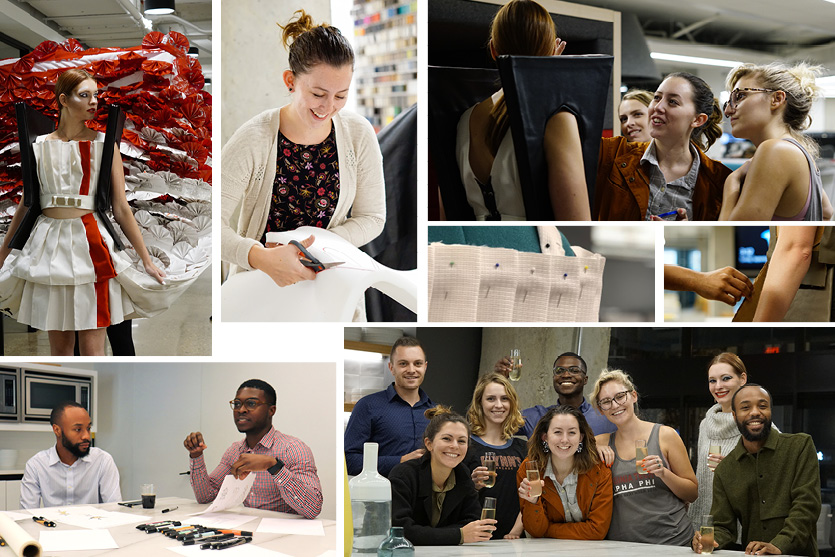 Tell us about how your team worked together to design the dress and solve problems.
Stephanie: Our team worked together throughout the entire process. As a group, we came up with our concept, sketch, and the overall design of the gown. For constructing the gown, we split up the different elements that comprised it and took a "divide and conquer" approach. As one person deconstructed the bodice and figured out how to make that piece, someone else studied the best use of materials for the train to flow properly. It was a very effective method! Everyone kept busy and we took the time to really focus on the details of every piece. And as the gown took form, we constantly checked in on each other and asked ourselves, "How can we make it better?" or in true Project Runway fashion, "Let's 'make it work."
How did the dress design change over the course of the project?
Lauren: Much like our daily design process, we began with an initial sketch as a basis of design. The real changes began to occur once we started modeling and creating mockups of how parts would be constructed or how it would look using various materials. Whenever we encountered an issue with the design, we would experiment and examine the design until a solution was formed.
Kelsey: At one point we had the dress evolving from a mini dress with a special train that would release from the skirt. During the construction process, we soon realized that the train was way too heavy to be held up and "released" on the runway. Although we did not have the dynamic garment we originally planned, as the model reached the end of the runway, the train retained a dramatic twist as she turned and walked back up the runway.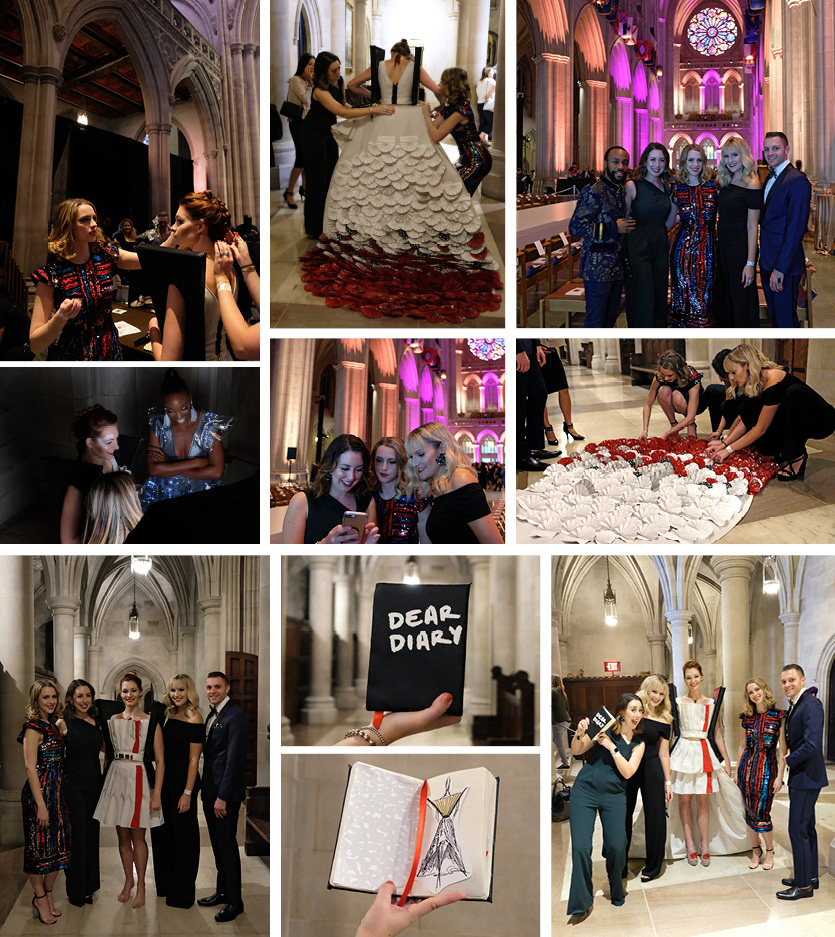 What was it like choosing a concept based on this year's theme: memory?
Stephanie: The theme was a creative way to pay homage to the 10th anniversary of the event, and it sparked very diverse garments. The theme also allowed the teams to take creative liberties and really explore different interpretations of such a broad concept. I think in the end, it was a bigger challenge for us since this was such an abstract, open-ended prompt. It really challenged us to come up with a physical representation of something that seemed so intangible at first.

Tell us about your experience participating in an event with so much industry participation and exposure.
Kelsey: As an active IIDA member, this event was a great way to get to know other industry members and collaborate with them on the behind-the-scenes process. Thank you to our fellow FOXes Madeline Frost and Liz Pelletier, who spent numerous hours making this event come to life!
Lauren: Participating in this event definitely requires many late nights and weekends. Hard work is essential for creating this one-of-a-kind garment that holds up to our quality standards. When your garment walks down the runway, it not only shows who you are as a team, but also as a firm, and we want to meet a high standard of excellence.


FOX Architects won the Cosmo Couture Audience Favorite award! Who do we need to recognize for making this dress come to life?
Kelsey: The core team who presented to the judges were: Tyler Giroux, Stephanie Houston, Kelsey Hutton, and Lauren Pelletier. Our dedicated team also included Jennifer Boyd, Victor Galloway, Lydia Holman (our model), and Demar Parris. Everyone had a hand in constructing the dress, and we even held a lunch work session for the entire office to help hand cut and hand fold fans that were incorporated into the dramatic train!
We also couldn't have done it without the help from our design sponsor, Knoll. A huge thank you to Faith Pierce, Jennifer Geis, and Christine Papachristos for all their hard work and help with our team!
Watch our team transform Knoll materials into a couture gown!