FOX Architects Principal JP Spickler, FAIA, is a pioneer in the discipline of building recycling. His expertise has elevated FOX Architects as a leading firm for recycling antiquated structures, enabling us to sustainably revitalize downtown, urban environments. We sat down with JP for a conversation about design, the evolution of work environments, and how he recycled 1401 New York Avenue: a 210,000 SF, LEED Gold Certified office building one block from the White House.
Much of your work and expertise is in building recycling. What is building recycling?
Recycling is about revitalizing something that's outlived its usefulness. In our case, it's office buildings. People see an old, abandoned theatre or warehouse and think, 'That would make a wonderful museum or apartment building. Someone should recreate that to be useful again.' You see a 1970s or '80s office building and think, 'Wow. Someone should tear that old building down and put something vital in its place.' We're finding a way not to tear that down and burden a landfill, burden the urban context, but rather salvage what is good and sound about that building and use it to make a 21st century work environment.
So often the structure in older buildings is sound, but the systems — HVAC, lighting, facade, so many aspects of a building — were not engineered to last more than 25 or 30 years. They were engineered before anyone prioritized sustainability in workplace design or corporate architecture. From a design standpoint, these projects are much more challenging than just building a new building. But that's what's so gratifying about them: bringing something antiquated back to life.
So what's the difference between building recycling and significant renovation?
Renovations make improvements to an older building. Recycling is creating a new building born out of the framework of an older structure. This might sound like marketing, but when we work with our clients who lease these buildings, it's key that tenants understand they're in a new building. Part of the structural skeleton might be an older building, but this is more than just a renovation. It's a complete repositioning of the building into something that's new.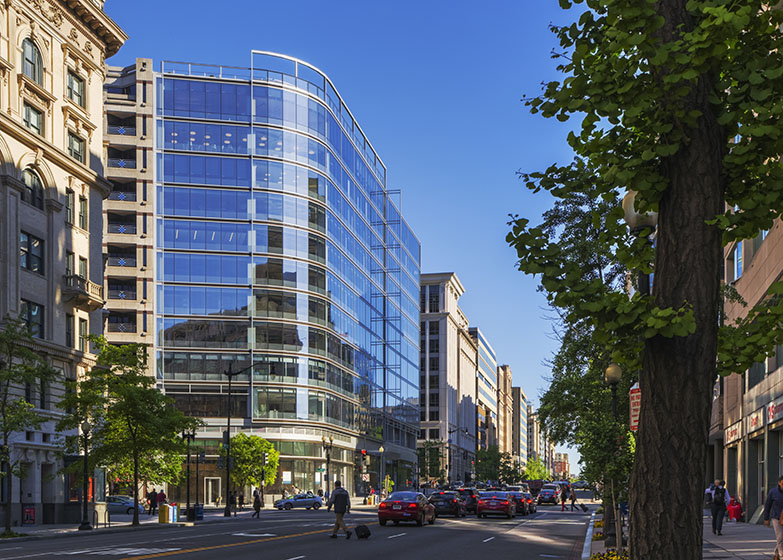 You're reconfiguring buildings to suit modern workplace needs. What role does sustainability play in these development projects?
Our society, as a whole, is much more educated and attuned to sustainability than it used to be, and that includes private builders of office buildings and corporate campuses. What's good for people is good for the environment. We want to make environments that are attractive and good for people. And that has a positive ripple effect. If you're creating a vital, responsible environment, it's going to do a bunch of other good things too. More than 50% of the nation's office buildings are more than 38 years old. So while we're recycling individual buildings, over time, we're revitalizing the urban fabric in a much more responsible and sustainable way.
From a developer's perspective, what are the advantages of recycling a building rather than building to suit?
There are several advantages. These projects are quicker to execute than building a new building because you're salvaging the below grade and the existing structural frame. You can complete these buildings 6-8 months quicker than tearing the building down and putting a new one in its place. So you can get to market faster.
Also, when you're building a new building, most of your budget risk is in the ground because you never really know what's there until you start excavating. Seventy percent of a construction contingency may get eaten up in the first few months until you come up out of the ground. So there's less risk from a cost standpoint.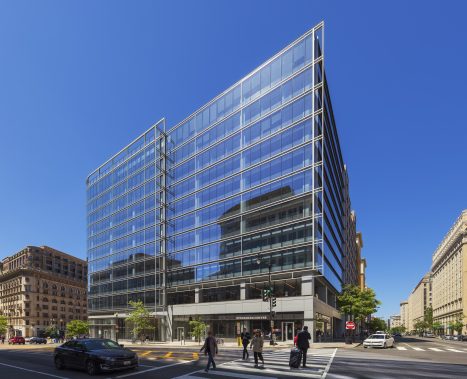 Investors who work with our clients like these projects because there's a tangible asset in place, with the ability to generate revenue while the redevelopment is ongoing. We don't always empty these buildings out completely — and 1401 New York Avenue is a great example of this. It was 55% occupied while we recycled the building. We added a new facade, lobby, building amenities, a new rooftop terrace. We also replaced the main HVAC system for the whole building and upgraded the cores on every floor. These projects are incredibly surgical in design and construction, but we were able to do all that and recycle this building while half of it was occupied by tenants paying rent.
Recycling this building added significant value, as it sold for $165 million after you recycled it. There's also value in its location one block from the White House. How did the site context influence the design?
The site context influenced the design quite a bit. It's a monumental intersection on the corner of 14th Street and New York Avenue, one block east of the White House. The intersection is large and is a significant landmark, and we wanted the building to respond to that. We've purposefully designed an envelope that contrasts from the buildings around it. There are historic, classical, federal buildings and their designs were motivated by workplace paradigms from a previous century.
Right now, a vibrant work environment is about maximizing daylight in and views out. People feel more engaged with the city and their work environments when there's natural daylight. The view corridors looking out from within this building are spectacular because of the monumental vistas, and we wanted the envelope of the building to permit that.
With advances in glass technologies, we have facades that are much more energy-efficient than decades ago, so we can make very glassy buildings. The entire facade is 100% vision glass, which means it's all transparent — every square inch of the facade. From a more abstract design notion, we like the idea that one can see the structure of the building as differentiated from its envelope, the latter being more of a thin veil. That's completely the opposite of classical architecture, where you have heavy, thick, load-bearing facades with punched window openings: the structure is the facade, and the facade is the structure. We're modernists. We like to take the components of the building — whether it's the structure, the enclosure, the program, the systems — distill and separate those, and we think that enables us to celebrate each system. So there's a conscious notion to separate enclosure from skeleton.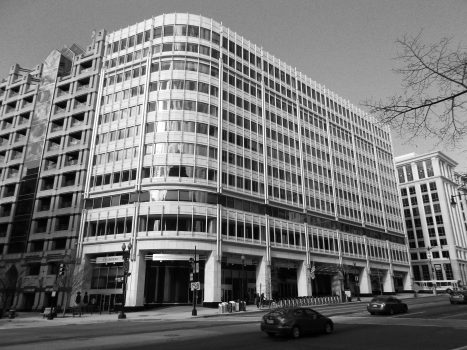 When you look at the building's previous facade, you notice much smaller windows. Light coming in is a major factor in the redesign. Why was the building originally constructed that way? Was it design preferences, technology, cost?
I think, in the past, when architects and developers built office buildings, they were less attuned to the nature of the spaces that would be built and occur within those buildings. Now, we're much more sensitive and understanding of what is going to happen in a building — it's not just a core, shell, and frame — so some of those considerations weren't a part of the building's original design. For its time, it was a good and responsible building, but we've learned a lot since then and we're more sophisticated than we were back then.
You mentioned that there are many classically-inspired buildings in this area. Did you need to consider the relationship between this building's new design and the styles around it — whether it would fit in or stand out?
I wouldn't say 'fit in' versus 'not fit in.' I would say 'distinguish oneself.' I don't think we want to create an architecture that purposefully challenges buildings around it. Good architecture should be in a positive dialogue with the buildings around it.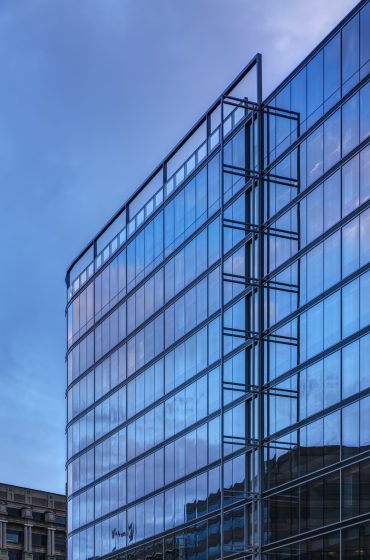 For us, it's about creating a building that has visual movement in response to the daily activity that goes through this intersection — and that's a 21st century notion. It doesn't mean we're deliberately taunting the 20th century expressions of architecture around us, but rather saying that we should always be evolving our craft and our profession in creating buildings that are dynamic, respectful of their content, and looking forward.
Recycling this building wasn't simply to improve its aesthetics. Form and function go hand-in-hand. How did the aesthetic changes improve the building's functionality?
Having a glass facade that permits maximum views out and daylight in enables healthier work environments. The new systems include a DOAS (Dedicated Outdoor Air System) HVAC system. That means we're pumping 100% outside air into the building, so this is a healthier air environment. Most office buildings reuse a percentage of the air. These DOAS HVAC systems use 28-32% less energy, which saves on the electric bill. Half of the energy required to heat or cool the building is moved in water instead of air. You can move as much energy in a one-inch pipe as you can in a 24-inch by 24-inch air duct. So you're able to have higher ceilings because the HVAC isn't taking up as much space.
Programmatically, we've created state-of-the-art amenity areas that enable tenants to engage each other in ways they weren't able to before. There's a spa-level wellness and fitness center and a conferencing center with lounge areas. The rooftop deck and its supported amenities provide tenants options for where to have casual meetings, where to get work done outside their office suite.
In this area of town, there are buildings even older than this one. So what is the difference between outdated and historic? If you had waited another 60 years, would a 1980s building be something that people are interested in again?
That's a great question. I think there is a difference between outdated and historic. And I think you're going to start seeing some buildings from the '70s, '60s, certainly the '50s, becoming identified as potential landmark opportunities. The difference between historic and outdated is the difference between good architecture and bad architecture. There are great office buildings from the '50s that need to be respected and designated historic landmarks from the midcentury — they're the historic buildings of tomorrow. Just because a building is old doesn't make it historic. There are old buildings that aren't great, that need to make way for new buildings, and there are old buildings that are wonderful and well-designed, and they need to be preserved in a careful manner that still enables 21st century usefulness. It's a qualitative difference.
This building was constructed in 1983. What did people want in their office environments then that people don't want now?
Back then, you walked through a lobby, which was a stone corridor with a guard behind a desk. You went to your individual, private office. You had an admin assistant, probably sitting outside that enclosed office, and you really didn't think much about the quality of your interior air environment. That's how people worked in the '70s and '80s.
It's all so very different now. There are often no perimeter offices, or in firms that still have perimeter offices, large percentages of the perimeter are devoted to shared internal amenities. The pantry isn't buried in the back of the office; it's celebrated and put along the perimeter. Think of new office building lobbies the way you would think of a boutique hotel lobby: they're spaces where people can overlap, engage one another, have dialogue, have a meeting. There might be newspapers and coffee in the morning and wine in the afternoon. They're places for people to meet and socialize. So in the new 1401 New York Avenue, we doubled the size of the lobby and put in seating areas with soft furnishings to encourage that dialogue to happen.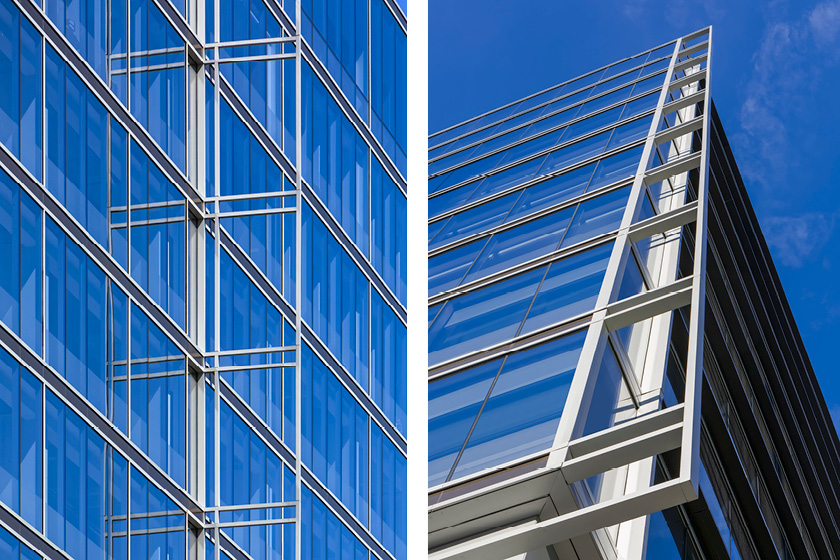 So what happened in the '80s, in terms of office building design, that went wrong, so to speak? If there are office buildings from the early 20th century that people still utilize and maintain, what happened then in the '80s, that these buildings need to be significantly redesigned?
In this country, in previous decades, office building development was often driven by a financial pro forma — it's a real estate investment. Over the last decade, we've seen a flight to quality — developers understanding and respecting that quality matters — and they're investing more in buildings than they used to. They're more sensitive to the quality of the interior spaces and the impact that these buildings have on the natural environment. That sophistication has translated to investments that, I think, will stand the test of time better than buildings from previous decades.